The South Tyrolean Consortium expects a good season for its wide variety of organic apples, promising the "right apple for every need" all year round
Vog, the South Tyrolean Consortium of apples, showed off its wide range of organic apple varieties and brands at the BioFach organic exhibition in Nuremberg, Germany. Despite a challenging start to the season, the consortium said it is looking ahead with optimism.
"Falling consumption and price pressure impacted the organic segment, as well as the rest of our production," said Werner Castiglioni, head of organic production at Vog. "Despite the critical situation, we have maintained our presence on the market and expect the season to continue positively, partly thanks to the completion of the assortment with innovative products appreciated by our customers."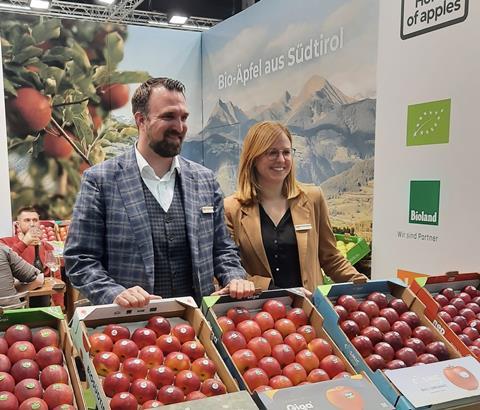 The consortium states that it has "the right apple for every need", 12 months of the year. This month, marketing of the organic versions of Giga, RedPop and Cosmic Crisp, three latest-generation apples suitable for organic cultivation, kicked off.
Vog's assortment includes its own brands, Biosüdtirol and Bio Marlene, as well as other successful brands such as Pink Lady Bio, Kanzi Bio, Evelina Bio and envy Bio, alongside well-established exclusively organic brands like Natyra.
"BioFach is a great opportunity to network, talk to organic opinion leaders and share strategies and ideas with our trade partners," said Hannes Tauber, marketing manager at Vog. "As a recognised benchmark for apple category management, we want to play an increasingly active role in the organic discussion.
Vog organic apples are present in more than 40 markets, including Germany, Spain, Italy, the UK, Sweden, Norway, Denmark and Benelux, as well as the Middle East and Asia.