Turnover at the Belgian cooperative exceeded €500m for the first time in 2022, but uncertainty continues for its growers, impacted by soaring energy costs and a reduction in consumer purchasing power
Belgian cooperative BelOrta ended the year with a record turnover of €507m, up 2 per cent compared with 2021. This was in spite of a decrease in volume of 4 per cent as a result of changes to production schedules and the effect of high inflation on consumption.
According to the cooperative, increased costs of energy, personnel and raw materials have had a major impact on production for BelOrta growers.
"Growers often have to plan well in advance when it comes to sowing, planting, harvesting or storing topfruit," the cooperative stated. "Such planning certainly entails high risks in uncertain and volatile times. In addition to the uncertainty in terms of production, we also saw changes in consumer shopping baskets due to unprecedented inflation and reduced purchasing power."
Purchases of higher priced vegetable specialties were generally hit harder than classic types, according to BelOrta, while some vegetables, including asparagus, benefited somewhat from a revival of hospitality and food service after two Covid-hit years.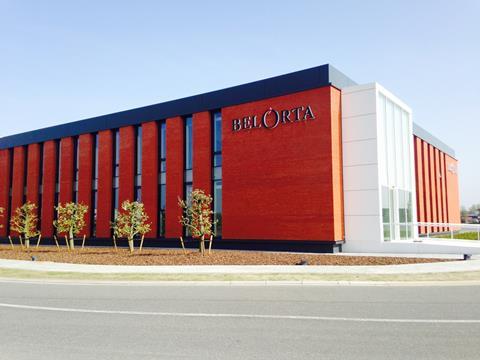 Soaring storage costs have been detrimental to pricing, the cooperative revealed, with produce placed on the market more quickly and offered less widely.
"In addition, the war in Ukraine and the expensive transport costs also have consequences for our exports," it stated. "However, it is not all doom and gloom when it comes to topfruit. Our Conference pears maintain their good quality image and find more and more new final destinations. Moreover, existing markets continue to grow."
As with some specialties and convenience products, organic sales have also been affected by high inflation. "Certain occasional organic buyers are already more often reaching for a cheaper alternative and this is reflected in the sales figures," BelOrta revealed. "However, there was also positive news on the organic front. Last summer's warm weather had a positive impact on the quality of our organic soft fruit, which benefited sales and consumption, especially compared to the extremely wet 2021."
BelOrta celebrates its tenth anniversary in 2023, vowing not to rest on its laurels concerning a number of sustainability objectives, including reducing CO2 emissions by 42 per cent by 2030 (compared with 2020) and striving for living incomes for its growers. The cooperative believes its mooted merger with BFV will help to achieve these goals.
"It is expected that the Belgian Competition Authority will grant its final approval by mid-2023 with the aim of achieving full operational integration by 1 July 2023," BelOrta stated. "As a cooperative of more than 900 growers, or rather 1,300 growers after integration with BFV, BelOrta is happy to take up the gauntlet and look forward positively with great enthusiasm. We are convinced that cooperation pays off and that everyone in the chain from field to fork will benefit from this."