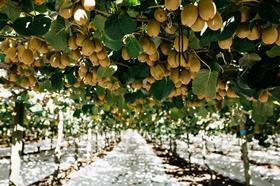 Zespri continues to go from strength to strength, with the kiwifruit marketer reporting a record return per tray across all categories for the 2020/21 season.
Increased sales, the ongoing expansion of Zespri SunGold kiwifruit production and great quality fruit underpinned by strong international demand helped deliver the record result, according to the company.
Zespri's 2020/21 financial results, released on 27 May, show total global revenue generated by fruit sales reached NZ$3.58bn, up 14 per cent on the previous year.
Meanwhile, total global operating revenue increased by 16 per cent to NZ$3.89bn and global sales volumes were up 10 per cent on the previous year to 181.5m trays.
Direct returns to the New Zealand industry increased by 15 per cent to NZ$2.25bn, in spite of the considerable uncertainty generated by the Covid-19 pandemic, announced the company.
"Earnings are spread through many regional communities including the Bay of Plenty, Northland, Nelson, Gisborne, and the Waikato, providing support to people, communities and businesses across the country," reads the report.
Zespri reports the average return for its Zespri Green per tray increased to NZ$7.51, with the average return per hectare reaching NZ$76,722.
Zespri organic Green reached an average return per tray of NZ$10.53, and an average per hectare return of NZ$66,453.
The average return for Zespri SunGold kiwifruit increased to NZ$12.46 per tray, and the average return per hectare was also a record NZ$177,846. 

The marketer's organic SunGold kiwifruit saw a per tray return of NZ$15.36, with the average per hectare return reaching NZ$158,599.
Meanwhile, Zespri's non-New Zealand supply sales increased to NZ$472.8m. The company's net profit after tax was NZ$290.5m, up from NZ$200.8m on the previous year.
Zespri chairman Bruce Cameron said the results reflect the continued strong demand for Zespri kiwifruit around the world, boosted by the industry's hard work and investment to increase demand and supply.
"After a season where we were forced to make such significant changes to our operations with a focus on keeping our people safe, getting our fruit to the world, and continuing to invest for the future, it's pleasing to see such encouraging results for the industry," said Cameron.
"Demand for both Zespri Green and Zespri SunGold kiwifruit increased, and we're pleased to see growing interest in our newest variety, Zespri Red, which is a testament to our industry's ongoing investment in innovation and finding new ways to add value for New Zealand and our international production bases."
Zespri's chief executive Dan Mathieson said the 2020/21 season again showcased the strength of the Zespri brand in delivering value, attracting new consumers and supporting communities.
"The unity of our industry allowed us to respond effectively to incredibly difficult conditions around the world," highlighted Mathieson.
"That response was underpinned by our investment in the Zespri brand, the trust we have built up with our customers and consumers globally and the resilience and adaptability of our supply chain and sales and marketing teams.
"The efforts of our people right throughout Zespri and our supply chain were critically important and we're incredibly proud of the way they responded and of those members of our team who are still dealing with the ongoing impacts of Covid-19 around the world," he added.
Mathieson made particular mention of the growth in the company's sales of its non-New Zealand supply, citing strong returns to its partner growers in Italy, France, Japan and Korea.
"These production bases are a critical part of Zespri's 12-month supply strategy," noted Mathieson. "12 month supply means we're available to consumers year round, hold our shelf space and commercial partnerships, ensuring Zespri growers maximise the benefit from the increased international demand we're creating, making our marketing and promotional spend more efficient and delivering stronger returns to growers in New Zealand and around the world," he added.