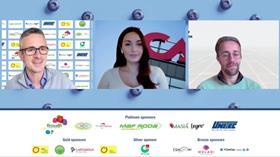 The berry business will need to be even more resilient, both commercially and environmentally, in future if it is to sustain its recent impressive growth in sales around the word.
That was the stand-out message from this year's Global Berry Congress, which took place online on 21 October.
Around 450 people from more than 40 countries worldwide took part in this year's event, which brought together leading industry players and expert commentators to discuss new trends and opportunities in the international soft fruit market.
'I think [the situation is] positive from a consumption side, but there are lots of challenges in the supply chain," concluded Rabobank's Cindy van Rijswick during her opening address.
"Inflation has come up quickly, which wasn't the case a year ago. And the labour situation has worsened. But the situation is still positive and there are a lot of untapped opportunities.'
Berry companies will need to withstand a number of difficulties in the 12 months ahead, she implied. 'Companies need to have financial robustness as margins go down, and to become more efficient. It's extremely important to be in control of sourcing, supply chain, and so on. That will be key for leading berry players.'
She added: "It's important to cope with all of the challenges we see in the business. Companies need to have some firepower to deal with all of this. Interesting times ahead, but also very uncertain.'
Global survey results
One of the highlights of this year's Global Berry Congress was a discussion between Kylie Horomia of NZ startup WayBeyond and Ricky Stephens of US firm Agritecture, who provided a sneak preview of their new Global CEA Census report.
According to its early findings, the report shows that 30 per cent of growers working in controlled environment agriculture (CEA) are considering producing berries in the next 12 months
What's more, revealed Horomia and Stephens, 70 per cent of those producers believe their sector is susceptible to excessive greenwashing.
Sustainability was a key topic throughout the day. 'Consumers are more aware,' said Lisette Holmberg, category manager for fruits and vegetables at Swedish retailer ICA Gruppen, during a live panel entitled The Future of Berries. 'They know what they want and have a long list of demands. As a supermarket chain, that puts us in the spotlight."
In the same live session, Agrovision Europe managing director Stefan Spanjaard argued that sustainability was a challenge with "no end", one in which "there is always something to do, whether it's use of plastics and recyclability or water, land and people. It is a continuous journey.'
Earlier in the day, Joanne Daniels of UK firm Wellocks said sustainability was "an increasingly significant factor" for its customers in the foodservice and restaurant trades, even though flavour and appearance remained the most important considerations.
'Provenance is always important but chefs are becoming more conscious about air miles and sourcing produce as local as possible,' says Wellock. 'Sustainability is the trend that's really key to our chefs at the moment.'
For Holmberg, the balance would always have to be struck between different environmental and commercial considerations: 'Before Covid we were already looking at what types of origins we wanted to work with in the future," she said. "Obviously we want to source from as close as possible due to cost efficiencies, as well as the environment. But reliability is also key.'
Quality must not be compromised in the search for sustainable supply, she said. "Our consumer research last year found that strawberry consumers who had a bad taste experience were lost for ten weeks.'
Elsewhere, resilience was a common theme. Patricio Munoz, who runs one of the world's leading blueberry breeding programmes at the University of Florida, said his team was working to create new blueberries that can retain their quality when shipped over long distances.
And during a later session on ways to grow the berry business, Roger Horak of United Exports revealed that his company's licensed blueberry programme Oz Blue had not produced a variety since 2014 that was unable to be machine harvested.
"That is going to be the future," he said. "If you don't have varieties that can be at least 50 per cent machine harvested then you are going to become obsolete."
Packed programme
Throughout Global Berry Congress 2021, speakers shared their thoughts and expertise on several of the most important topics for the international berry business.
Under the theme 'A New Climate for Berries', the event gave attendees a chance to hear about new developments in areas such as automation, varietal research, marketing, nutrition, and climate forecasting.
Market focuses on Russia, India and China lifted the lid on market developments and the potential to expand the berry category in those countries, while other sessions provided updates on growing supply bases in Morocco and Peru.
And new to the event in 2021 were four completely live Meet the Expert sessions. During these half-hour segments, expert commentators spoke direct to an online audience to discuss various important topics.
Overall, it seems confidence remains high in the berry business despite some considerable challenges.
'There is still a lot of potential in the berry market,' Van Rijswick concluded. 'A lot of factors can boost consumption, even in mature markets: quality, availability, also price. Consistent good quality will be very important.'