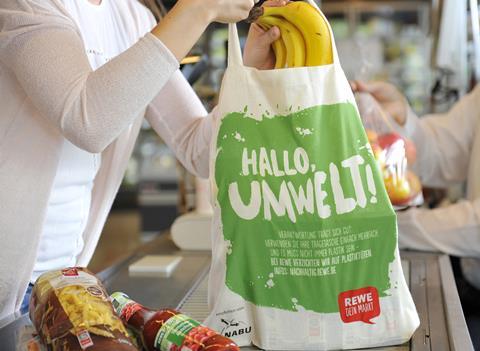 German retail chains Rewe and Penny have each introduced climate-neutral, private-label vegan ranges, as environmetal awareness continues to grow among its customers.
Penny's Food for Future brand and its sister company's Rewe Bio + vegan range both aim to provide shoppers with tasty and varied plant-based products that can help protect the climate.
They are part of an overall commercial strategy adopted by parent company Rewe Group that favours more locally or regionally produced food, less meat, and more fruit and vegetables.
According to Germany's Bundeszentrale für Ernährung (Federal Center for Nutrition), food accounts for a fifth of all the country's climate-damaging greenhouse gas emissions, and around one-third worldwide.
With this in mind, the retailer wants its Rewe supermarkets and Penny discount stores to offer more opportunities for climate protection in its food products.
"We are experiencing an ever faster sequence of climate extremes,' commented Stefan Magel, Rewe Group's divisional director retail and chief operating officer at Penny. 'We are all challenged to fight the devastating consequences of climate change in the truest sense of the word. That is why we as a company have set very ambitious climate targets.'
He added: 'I am proud that we have succeeded in making our vegan umbrella brand Food For Future climate-neutral. We must not ignore another positive aspect: vegan - but also vegetarian - products often have a significantly lower carbon footprint than their animal alternatives. In other words, their consumption causes less impact on the climate.'
Peter Maly, head of retail for Germany at Rewe Group and chief operating officer of Rewe, said he regarded the introduction of a vegan, climate-neutral private label range as an important step in achieving the group's climate goals.
"Rewe is particularly responsible for people, animals and the environment consciously,' he said. 'Sustainable action is not a trend for us, but an essential part of our business strategy - and has been for more than ten years.
'We strive to expand our leading role in sustainability. This also includes making the product ranges more environmentally and socially responsible. The climate neutrality of Rewe Bio + vegan is an important building block for this, on which we will also build for other own brands.'
Even for plant-based alternative foods, the question of emissions is an important one. For that reason, both Rewe and Penny plan to offset 'unavoidable' emissions by investing in reforestation projects in Germany and forest protection projects in Peru.
According to Rewe Group and its project associates at ClimatePartner, Penny is now compensating for 16,000 tonnes of CO2 per year, while Rewe is returning 32,600 tonnes.
Special codes on product packaging will give shoppers a chance to learn more about these projects.