Since the fruit requires less water to cultivate than many other crops, dragon fruit is regarded as an important fruit for the future
Saudi Arabia plans to boost production of dragon fruit in the Kingdom as part of its food security and water conservation efforts, according to Arab News.
The announcement was made at a workshop called "Scientific research on promising crops in the Kingdom", organised by the ministry of environment, water and agriculture in cooperation with the National Centre for Research and Development of Sustainable Agriculture, the Saudi Press Agency reported.
Dragon fruit has been identified as a valuable crop for the future since it fetches good prices and requires less water to produce than many other crops.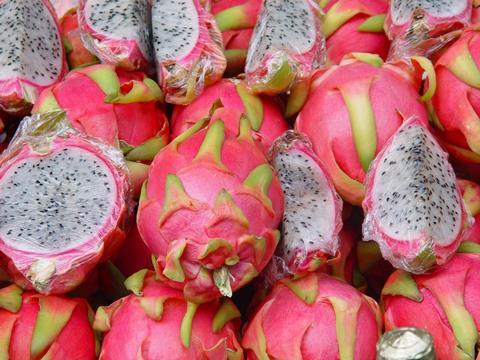 Dr Rahma Nasser Jeries, a researcher at the ministry, said that dragon fruit would be the first of several crops to be produced locally, as part of the Kingdom's Vision 2030 plan to expand its non-oil industries.
Last month also saw farmers from the Kingdom's Asir region gather for the third edition of the Grape and Seasonal Fruits Festival, aimed to support local growers of grapes, pomegranates, peaches, plums, figs and berries, promote the region's agriculture and encourage investment.
The four-day event was inaugurated by Prince Turki bin Talal bin Abdulaziz, governor of the Asir region and chairman of the Asir Development Authority, in the presence of the head of the Mawain Center, the director general of the regional branch of the ministry of environment, water and agriculture.
There are reportedly more than 500 grape farms in the Asir region, producing a volume of over 1,000 tonnes a year.