A selection of buyers from across Europe has descended on Belgrade for Fruitnet Forum South-East Europe, with the aim of exploring new sourcing opportunities in the region
Fruitnet Forum South-East Europe took place in Belgrade, Serbia, on 25 October, connecting Serbian and regional fresh produce suppliers with a selection of European buyers.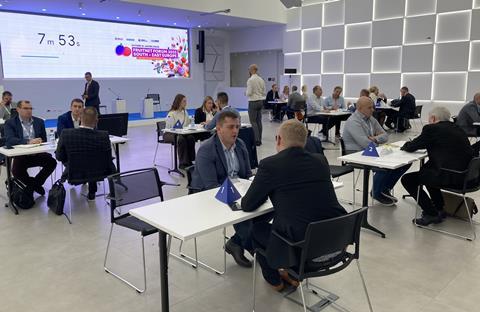 A total of 10 buyers, from Sweden, Norway, Poland, Belgium, Italy, Germany, Romania and Bosnia, were invited to explore business opportunities with 40 domestic suppliers and 10 regional suppliers, with 150 business-to-business meetings scheduled.
Serbian suppliers are keen to diversify their markets, with Russia still dominating the country's exports, and see opportunities for growth in established categories like apples and berries, as well as in stonefruit, grapes and a whole range of vegetables.
Given the impact of extreme weather conditions, which are expected to become more frequent as a result of climate change, it is becoming increasingly important to diversify sources of supply, according to Gordan Tolevsky, head of sales and sourcing at EuroGroup Italia, the vertical sourcing company for German retailer Rewe.
Tolevsky expressed the importance of establishing long-term partnerships with suppliers and highlighted the need for companies to be aware of the different requirements for exporters within Europe.
"The event is very well organised," said Aleksandar Leko of Berry Berry. "We are representing a cluster of nine blueberry plantations in Serbia. And we are looking for a partner for our next harvest in 2024. We're talking to potential buyers and planting the seed for future cooperation."
Serbian blueberries enjoy a five-week window starting in early June, once the Italian and Spanish seasons have finished and before Poland arrives in July. "There is a huge opportunity," said Leko. "Many people here have no knowledge about Serbian blueberries."
Climate expert Professor Mirjam Vujadinović Mandić from the University of Belgrade stressed the need for Serbian producers to take a long-term view on the climate, incorporating expected changes in the region's weather patterns before making long-term growing plans.
She warned that the region was prone to drought, making responsible use of water resources a major priority, as well as protection of biodiversity and the soil.
Even if net zero were achieved tomorrow, she warned, growers would need to adopt adaptation measures to protect their production, including the use of hail nets and managed irrigation.
This year's Fruitnet Forum South-East Europe was organised by Fruitnet and the Serbian Chamber of Commerce, with the support of the Big Small Businesses project funded by development agency USAID.
"It has been an immense success," concluded Zlatko Jovanović, agriculture and food specialist for the USAID project. "This sort of dedicated B2B event is pretty much unique for this region. This is the first opening for many smaller Serbian, Macedonian and Albanian companies who may not have a chance to participate in bigger shows like Fruit Logistica. Many European buyers don't know what these countries produce, let alone the standards or the taste, which is probably the most important thing. But when they see the quality of domestic agriculture here in Serbia, they want to cooperate with our local producers."