The South Tyrolean company made the most of its appearance at Fruit Attraction this week, as it looks to boost the value of the region's apple production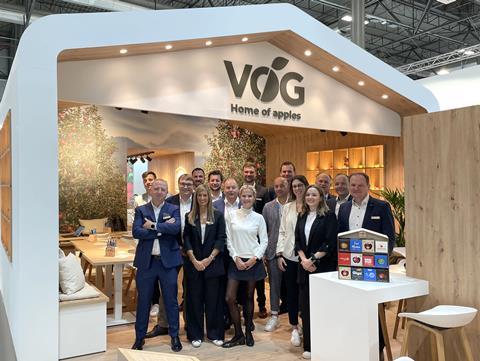 Italian apple company Vog has relaunched its organic brand and continued its efforts to promote a more effective method of marketing to consumers.
At this week's Fruit Attraction trade fair in Madrid, the South Tyrol-based marketer encouraged visitors to explore its range of products and brands, and to deepen their understanding of what it regards as a greatly improved way to sell apples.
And during a special event at the Spanish capital's magnificent venue La Quinta de Jarama, the group's clients and partners were able to fully immerse themselves in Vog's self-styled Home of Apples.
"Madrid was an example of how apple culture can be presented in a rich, engaging and positive way," explained Hannes Tauber, Vog marketing manager.
"To revitalise fruit and vegetable consumption we need to engage consumers and then encourage them to find out more and choose the apple that best fits their tastes and needs – an apple they will definitely be able to find among our range right throughout the year."
Vital connections
That engagement is vital to the portfolio of branded varieties that Vog promotes under the Marlene label.
Described as the 'Daughter of the Alps', Marlene's connection with consumers this season centres around an Aroma Wheel – a visual device to explain the flavour profiles of different apple varieties – and a culinary concept led by South Tyrolean star chef Norbert Niederkofler,.
At La Quinta de Jarama, the latter featured prominently and offered a perfect showcase for apples produced by Vog's 4,600 growers, and sold by its member cooperatives.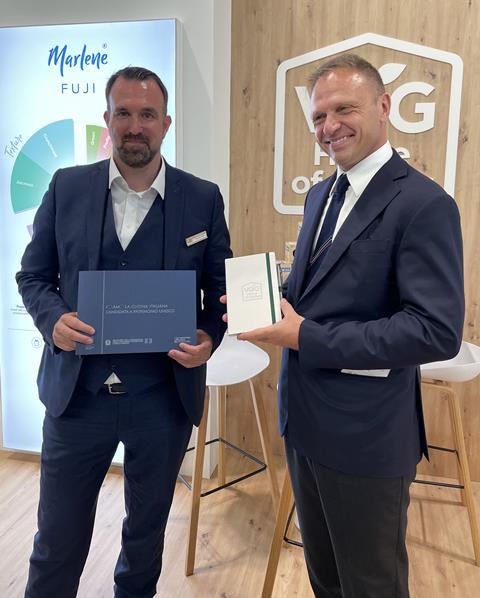 "Fruit Attraction takes place just when our farmers are harvesting and the first apples of our range are returning to the markets," said Walter Pardatscher, the group's CEO.
"Customer response to our new products has been excellent and we look forward to continuing our work with them, and making the fruit and vegetable segments even more attractive."
During the fair, the consortium also welcomed Italy's Minister of Agriculture, Francesco Lollobrigida, to its stand, where it discussed production, sustainability and consumer promotions.
It also relaunched its organic range under a new name, Marlene Bio, with a new, light blue, green and beige logo that serves to underline the products' natural origins.