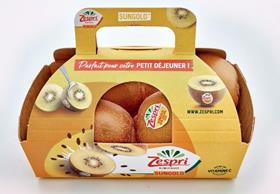 Following the launch two years ago of cardboard baskets for Zespri's organic kiwifruit range in Monoprix stores across France, the company has now announced zero-plastic packaging solutions for its conventionally grown fruit.
The move comes after the kiwifruit specialist unveiled a list of sustainability commitments at February's Fruit Logistica exhibition, which aims to make the production and distribution of the company's kiwifruit more sustainable and responsible.
After the arrival of the first Zespri kiwifruit from New Zealand in May, the company revealed that its conventional Zespri SunGold and Zespri Green ranges would be sold to Monoprix customers in 100 per cent cardboard packaging.
With consumers increasingly concerned about the environmental impact of plastic packaging, Monoprix and Zespri decided to join forces in order to reduce their use, with the support of Zespri's partners responsible for manually packing the baskets in France.
'Both consumers and retailers expect brands to listen to environmental concerns,' said Nele Moorthamers, Zespri's general manager Europe. 'At Zespri, we are currently studying different alternatives to best meet these expectations.
The approach is also a response to the new rules set to come into force in France next year that will severely curtail the use of single-use plastic packaging.
Monoprix's Damien Castagnier confirmed that reducing plastic was a top priority for Monoprix, with the aim of eliminating its use completely.
'After the 100 per cent cardboard baskets initiated on Zespri kiwis in organic farming for two seasons, we are pleased to be able to offer exclusively to our customers these new 100 per cent cardboard baskets on green and yellow Zespri kiwis,' he said.