The US has overhauled its approval process for genetically-modified products, opening the doors to British GM tomatoes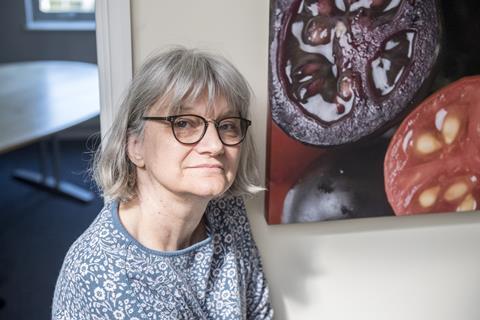 A genetically modified purple tomato developed by British scientist Cathie Martin of Norfolk Plant Sciences will go on sale in the US next year after the USDA streamlined its approval process for GM products, reports The Times.

The USDA gave its stamp of approval to the purple tomato last month, opening the way for early market testing next year, the paper said.
According to Nathan Pumplin, president of Norfolk Plant Sciences' US operation, Norfolk Healthy Produce, the USDA's new streamlined GM approval process – which can now take as little as a year and cost a few hundred thousand dollars – is expected to usher in a new era of GMO products.
"Does this open up a new era? I think that's the potential, and it allows small companies and scientists with ideas, to bring them to market," he told The Times. "When those rules were first put into place, it was new technology. Now we have 30 years of data to look at."
Plant scientist Professor Cathie Martin, who took part in FPJ Live 2021 and Global Tomato Congress 2021 to discuss the opportunities and risks associated with gene-editing fruit and vegetables, developed the purple tomato 20 years ago by crossing a tomato with the genes of a snapdragon flower.
Martin, a diabetic, was interested in enhancing the nutritional profiles of foods, The Times reports. The purple colour is caused by anthocyanins, an antioxidant present in blueberries that has been shown to aid cognitive function and reduce inflammation. Cancer-prone mice given a diet supplemented by purple tomatoes lived 30 per cent longer than normal.
A scientist at the UK John Innes Centre, Martin co-founded Norfolk Plant Sciences in 2007 to commercialise her invention, but was thwarted by regulations in Europe and, until now, the US.
Here in the UK, the Genetic Technology (Precision Breeding) Bill is set for its third reading in parliament. However, if passed, it would allow only fruit and vegetables whose genes have been edited to be grown and sold in England. This means products like Martin's genetically modified purple tomato, which has DNA from another species, would remain banned.
Nevertheless, as previously reported by Fruitnet, Martin and her team at the John Innes Centre are working on health-enhancing tomatoes using gene-editing technology. These tomatoes could be among the first gene-edited crops to go on sale in the UK once the government commits to the new gene-editing legislation.