British-grown produce plays starring role in King Charles III's first state banquet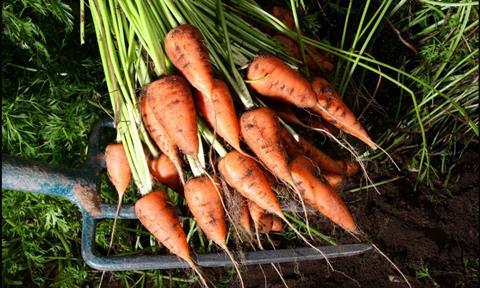 Home-grown fresh produce played a starring role in King Charles III's first state banquet last week.
The King, accompanied by The Queen Consort and members of the Royal Family, held a state banquet at Buckingham Palace for the President of the Republic of South Africa last Tuesday (22 November) which featured seasonal UK produce, including Chantenay carrots, kale, potatoes and apples.
In a letter to Buckingham Palace, managing director of grower cooperative FreshGro, Martin Evans, expressed delight that King Charles had chosen their carrots for such an auspicious occasion, and extended an invitation to visit the farm.
"From breeding our own varieties of Chantenay carrots, through to producing the only major field scale vegetable to date which has achieved carbon neutral status, I would be honoured to explain how we have achieved this great British success.
"We hope His Majesty the King accepts our invitation to visit FreshGro and see first-hand sustainability and British food production working in harmony."
The news that the Chantenay carrots, grown by FreshGro and supplied to The Palace by Nationwide Produce, had made it to the royal banquet is another accomplishment for the cooperative which, earlier this year, launched its new sustainability plan 'Orange is the New green', and whose carbon-neutral carrots have attracted national media and customer interest, including a recent special feature in Country Life magazine.
Evans said: "We are proud to hold our carbon-neutral status after working with Campbell-Gibbons Consulting, Intellync-Sustain and Carbon Neutral Britain, to reveal a carbon footprint of just 0.03 grams of CO2e per kilogram of Chantenay carrots. Having carrots officially approved by the King is the perfect way to end 2022."
Patrick O'Malley, managing director of Nationwide Produce PLC, added: "We struck a deal with Freshgro in 2022 to become their primary partner for non-retail sales of Chantenay carrots in UK and for export abroad. We supply Chantenay carrots into premium catering lines nationally and are proud to see The King enjoying the very best UK produce at his first state banquet."
The banquet menu, revealed in the Daily Mail, started with grilled brill with wild mushrooms, truffles and sorrel sauce. Guests then enjoyed ballotine of Windsor pheasant filled with artichokes with quince compote and port sauce served with a selection of Chantenay carrots, kale with roasted butternut squash and braised fondant potatoes. The dessert was an iced vanilla parfait with caramelised apples.
Freshgro, formed in June 1998 by 10 farmers, supplies over 90 per cent of the UK Chantenay market.