Government must act now to boost domestic produce production and consumption, says new report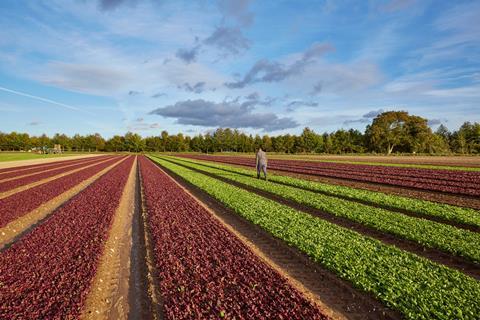 The UK does not produce or import enough fruit and vegetables for its population to get the government-recommended five portions a day 400-gram intake, according to a newly published analysis by the Sustainable and Healthy Food Systems (SHEFS) research group, which includes The Food Foundation.
Only one-in-ten children and a third of adults are eating enough fruit and vegetables, yet, even without taking waste into account, the UK would need to produce or import 9% more fruit and vegetables for everyone in the UK to be able to eat the recommended amount, says the SHEFS Fruit and Vegetables Policy Brief, which is intended to inform policy makers of the need to increase production as well as consumption.
UK consumers have turned away from traditional home-grown foods such as peas and carrots, and more than 80% of our fruit and almost half of our vegetables now come from imports, many of them exotic and tropical varieties that could not be grown in Britain, the report says.
This dependence on imports from regions increasingly vulnerable to the impacts of climate change and water scarcity puts UK food security at risk by exposing it to cost and supply fluctuation. Meanwhile domestic producers say their costs have risen by 27% (between March and October 2022) threatening the future viability of their businesses, it states.
Earlier SHEFS reports have shown that if everyone in the UK ate the recommended 400-gram a day fruit and vegetable intake, healthy life expectancy would increase by an average of eight months and diet-related greenhouse gas emissions would reduce by more than 8%.
The high cost of fruit and vegetables is contributing to the health gap between rich and poor, the briefing shows. In the year to October 2022, the price of fruit rose by more than 10% and vegetables by more than 15%, making fruit and vegetables too expensive for many people to buy. Healthier foods are nearly three times as expensive per calorie as less healthy foods, meaning people switch away from purchasing fruit and vegetables when budgets are tight.
Even before the cost-of-living crisis, consumption of fruit and vegetables showed strong, wealth-related differences – with the highest income groups consuming about 1.5 portions per day more than the lowest.
The researchers say there are four key priorities for policy makers: Supporting increased fruit and vegetable consumption - through initiatives such as sensory food education for young children and investing in TV and online advertising of fruit and vegetables.
Protecting low-income consumers – by expanding schemes such as Free School Meals and Healthy Start that provide a nutritional safety net for children, and by ensuring fruit and vegetables are available from 'food desert' convenience stores in areas of high social deprivation.
Boosting domestic fruit and vegetable supply - so UK fruit and vegetable supply chains are not unsustainably dependent on imports from countries likely to experience future climate and water stress, and greater consumer demand can be catered for.
Making better use of government – promoting cross-departmental working so the health and environmental benefits of greater fruit and vegetable production and consumption are realised, and to ensure all taxpayer-funded meals in schools, hospitals, prisons and government offices include two portions of vegetables, with fruit as an additional portion if used as a dessert.
Commenting on the report's findings, Anna Taylor, executive director of The Food Foundation, said: "As the government takes forward the development of the Horticulture Strategy for England – which is now long overdue – we show it must aim to increase both production and consumption of British fruit and veg. This will make a significant difference to the nation's health and help our farmers. It's a win-win."
Professor Rosemary Green, London School of Hygiene & Tropical Medicine, co-PI of SHEFS, added: "SHEFS research is about identifying food system changes that would be beneficial for both people's health and the environment. Increasing production and consumption of fruit and veg is vital to achieving these goals, and should be prioritised now."
SHEFS (Sustainable and Healthy Food Systems) is a global research programme led by the London School of Hygiene and Tropical Medicine (LSHTM) using novel techniques to generate and synthesise evidence, and to help decision-makers create policies that deliver nutritious and healthy diets in an environmentally sustainable and socially equitable manner.
The Food Foundation is a charity working to influence food policy and business practice, shaping a sustainable food system which makes healthy diets affordable and accessible for all.