Food industry firms have joined forces to support King Charles' Coronation Food Project to distribute more surplus food to charity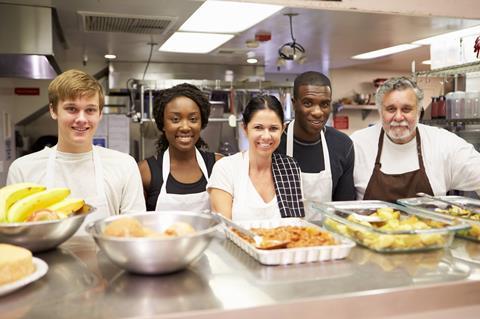 Senior leaders from the UK food industry have pledged to support King Charles' Coronation Food Project, which encourages supermarkets and food manufacturers to join FareShare's 'Alliance Manufacturing' programme and redistribute more surplus food to charities.
The Coronation Food Project, inspired by His Majesty The King and delivered in partnership with food redistribution charities FareShare (across the UK) and The Felix Project (in London), formally launched yesterday (14 November) on King Charles' 75th birthday at an event at FareShare's Thames Valley partner SOFEA.
The project intends to provide even more food to support the 13 million people in the UK experiencing food insecurity by targeting all forms of waste in the food supply chain and building on the food industry's existing initiatives to redistribute surplus food to charities.
The Alliance Manufacturing programme, a vital element of the project, seeks to unlock more surplus food for redistribution by bringing project members together to share their surplus, underutilised and donated resources in all forms – food, packaging, labour hours, and factory/distribution capacity.
The central idea is that each resource in isolation has a limited impact, whereas new food sources can be efficiently created by combining them across multiple businesses along all parts of the supply chain.
By joining forces to promote best practices and teamwork across the industry, the goal of the Coronation Food Project is to reduce and redistribute surplus food waste, unlocking even greater social and environmental impact.
The support for the project from food industry leaders has been unanimous, according to FareShare, with them joining forces and committing to millions of meals in the pilot phase alone.
The first meals have already been produced, with more to come in the run-up to Christmas and beyond.
The programme is also supported by IGD, the organisation that delivers social impact through the food and consumer goods industry.
George Wright, CEO of FareShare said: "The response from the food industry leaders and their teams has been incredible. I shared the idea with them, and they've really taken it on, working together to make it a reality. The food is already getting to our charities – school clubs, community centres and a whole spectrum of support services - and with so many families impacted by the cost-of-living crisis, it is making a difference already. We are all incredibly grateful to them.
"And it's just the start. If everyone in the food industry joins the alliance, no matter how large or small, the combined force would be game-changing. If you're reading this and you want to join, please email ceo@fareshare.org.uk."
Sarah Bradbury, CEO of IGD, added: "The Coronation Food Project is a fantastic opportunity to drive tangible change, as we look for new and innovative ways to reduce food waste across the supply chain as well as support those in need across our communities. At IGD, we are well placed to convene retailers, manufacturers and leaders from right across our industry to support this initiative, and I am delighted to say the response to date has been incredible. I would genuinely encourage any other organisation that wants to get involved, to do so now."
The list of partners that have pledged to support the project include, Tesco, Sainsbury's, Waitrose, M&S, Asda, Aldi, Lidl, Morrisons, 2 Sisters, Bakkavor, Cranswick, Nestle, Greencore, Samworth Brothers, ABF, Princes, Greenyard, Warburtons and IGD.