Board celebrates 10th anniversary of Fresh Avocados – Love One Today and first research publication
As it continues to drive avocado sales in the US by advancing awareness of their health benefits, the Hass Avocado Board (HAB) is celebrating the 10th anniversary of its science-based resource Fresh Avocados – Love One Today.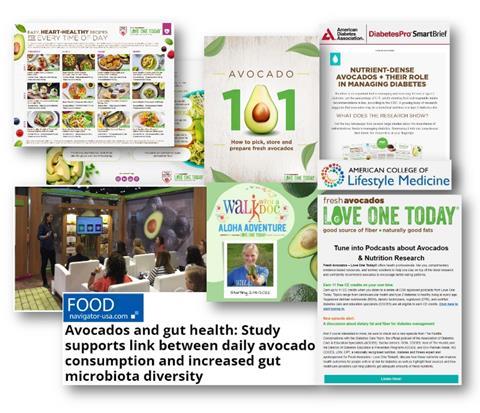 Founded in 2013, Love One Today has focused on reducing purchase barriers by telling avocado's nutrition story, starting with the benefits of good fats amidst a challenging landscape of contradictory policy opinions.
According to a 2023 HAB tracking study analysing health professional's attitudes and awareness, 80 per cent of surveyed registered dietitians now recommend avocados as a source of good fat to their clients, reflecting a 25 per cent increase since 2013.
"For ten years, Love One Today has been steadily improving public opinion and advocacy for the nutritional value of fresh avocados because the health benefits are a key purchase driver," said Gina Widjaja, HAB's senior director of marketing and communications.
"The impact on demand as well as pop culture thanks to targeted programmes for registered dietitians validates the approach and prompted successful campaigns focused on physicians and nurses who increasingly want to be more confident advising patients about nutrition.
"We are driven to keep supporting the industry by moving the conversation from avocados being a fad, party food to an invaluable investment in good health."
Love One Today works in partnership with the Avocado Nutrition Centre, HAB's research resource dedicated to studying the role of fresh avocados in improving human health.
"This year also marks the 10th anniversary of the first publication supported by the Avocado Nutrition Centre," said Dr Nikki Ford, HAB's senior director of nutrition.
"After a decade of learning and nearly 50 peer-reviewed publications, passion still runs high to add to the growing body of evidence supporting avocado's benefits on heart health, weight management, diabetes and healthy living across the lifespan."
Love One Today is increasingly recognised as a leading source information on the health benefits and versatility of avocados. The resource provides a robust pipeline of free recipes, educational handouts, and easy-to-follow meal plans to help health professionals break down the science and further inspire their clients to enjoy avocado's goodness every day.
"The Love One Today nutrition marketing programme and research supported by the Avocado Nutrition Centre are key to driving public trust in how Hass avocados are healthy for people, a core tenet of HAB's 5 Year Objectives," HAB said.
"The opportunity for the future of the industry grows as the science-based relationship between avocados and priority health pillars is better understood and promoted."