Group's newly unveiled strawberry product joins the Omakase berry as a vertically farmed option
Vertical farming specialist Oishii has announced the launch of the Koyo berry, the newest varietal grown by the strawberry brand.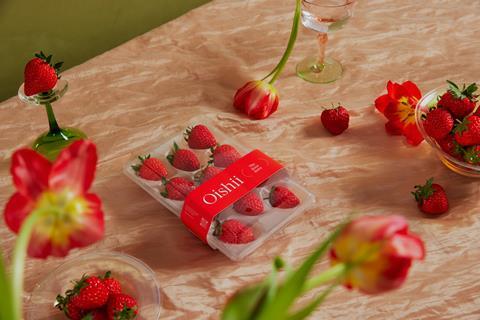 The Koyo berry will join the Omakase Berry as Oishii's second strawberry, bringing an "entirely new flavour profile" to the table, according to the group.
Meaning 'elated' in Japanese, the Koyo berry is a Japanese cultivar, traditionally grown just outside Tokyo during the winter months.
According to Oishii, the strawberry is marked by its sweetness, balanced acidity, fragrant aroma, and slightly firm texture.
"When we founded Oishii, we made a promise to set a new standard for how we enjoy produce," said Hiroki Koga, CEO and co-Founder of Oishii.
"The Omakase berry was an important first step in that journey, and today, we are so proud to introduce the Koyo berry – which builds on our brand's legacy for delivering clean, fresh strawberries that are unlike anything you've ever tasted before," Koga outlined.
"Every bite of the Koyo Bberry immediately transports me to a warm summer day – even though it's the middle of winter in New York," added Brendan Somerville, Oishii's COO and co-Founder. "I can't wait for our customers to try these berries."
The Koyo berry is available via FreshDirect in New York, New Jersey, and Connecticut for US$15 for a tray, before expanding to other markets later this year.
Oishii currently operates three indoor vertical farms – two outside of Manhattan and one in Los Angeles. The brand recently opened its flagship Mugen Farm, a 74,000 square foot facility that introduced technology to make Oishii's precision growing process more efficient.
Each harvest at the new farm relies on advanced robotics combined with traditional Japanese farming methods, using 60 per cent less energy and 40 per cent less water than first generation farms.