Syngenta and Four Growers are collaborating to create the future of tomato production through robotic tomato harvesting
Syngenta Vegetable Seeds has revealed that it recently worked with Pittsburgh-based Four Growers Inc to test the GR-100 robotic harvester in its tomato research.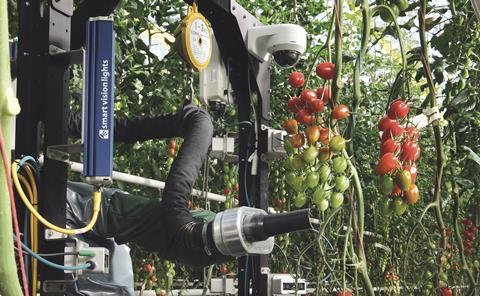 The aim, according to Syngenta, is to optimise the production of tomatoes given that the future of food supply will require greater efficiencies, sustainable practices and yield maximisation.
"This collaboration helps serve as a link between genetics and automation," said Ruud Kaagman, Syngenta global crop unit head for tomatoes. "The success of robotisation in the future is the application of robotics with different plant characteristics. With this collaboration you'll see varieties adapted to robotic harvesting to enable growers' success."
The group said that its work with Four Growers could lead to faster crop advancements, reduced food waste, and more satisfied growers and consumers. "Robotics paired with genetics put technology and nature together to create a better future for this healthy crop eaten around the world," it stated.
Labour costs
Tomatoes are mainly harvested by people, which accounts for a sizeable portion of overall production costs – up to 30 per cent of the total, Syngenta noted.
On top of costs, growers are finding it more difficult to find enough labourers, and they need solutions to ensure consumers have access to the tomatoes they need.
"Using robotics in agriculture will enable us to eat higher quality, healthier, more affordable produce," said Brandon Contino, Four Growers CEO. "Unlike other machines that we see in the field today that harvest every crop (ripe or unripe) in one pass, at Four Growers, our robotics and AI enable us to pick produce individually so that we only harvest those that are perfectly ripe."
Syngenta said that to optimise the efficiency of harvesting robots, growers needed a combination of an intuitive machine and plants designed to work with them, and this is why it was including robotics in the research stage of development to pick plant structures that worked best with machine harvesting.
"Syngenta is developing varieties for the future of our growers, so we need to understand how growers will be running their operations in five to ten years from now," Kaagman continued. "We will make sure that when growers move to robotisation on a large scale that we have varieties for them that will help them gain efficiencies and added value from robotisation."
Tech informs breeding
Fruit placement was used as an example of the benefits on offer. For example, today's tomato clusters are positioned throughout the plant, with some hidden behind stems and leaves, and some in tight clusters. Syngenta pointed out that these positions could make it difficult for a robotic harvester to identify and pick the crop.
With this knowledge, researchers can select the genetics that position fruit clusters in an optimal way for all future tomato varieties.
"Working with Syngenta provides an opportunity for us to leverage each other's knowledge and strengths," Contino said. "By combining these architectures with the characteristics for delicious taste, we can help breed a more affordable, better-tasting tomato."