Ahead of new EU legislation, company launches SIFAV-enhanced system to assess environmental, social and regulatory risks
Sustainability and food safety platform AgriPlace has created a tool that it says will help users in the fruit and vegetable business to understand better the sustainability risks in their supply chains.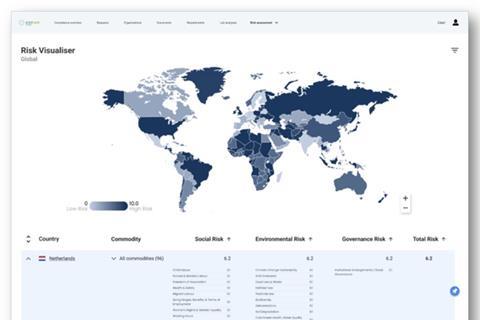 Ahead of new European legislation on due diligence, the tool will be launched at the end of June and offers a simple way to assess 17 social, environmental and governmental supply chain risks.
According to AgriPlace, it consists of a generic risk assessment and a custom one based on the user's own supply chains – with both based on location, product, and volume.
The generic assessment discloses risk scores for a country-product combination, for example an environmental risk score for bananas from Costa Rica. Some risk factors, like water and deforestation, are specified at regional level.
The custom risk assessment, meanwhile, reports scores based on a combination of product, source country or region, and the corresponding volume – all of which are entered by the user.
The tool then automatically calculates risk scores and creates custom reports which can be exported and shared.
"The sustainability risk assessment tool builds on the risk methodology and database from Sustainability Initiative Fruit and Vegetables (SIFAV)," explains Nico Broersen, managing director of AgriPlace.
"The database, which was developed by consultancy Blue North Sustainability, combines data from external, credible data sources for each of 17 key risk dimensions for the fresh produce industry into one standardised database."