The Belgian cooperative said the interest taken by minister Jo Brouns at a time of major sectoral challenges was a shot in the arm for its growers
Producers at Belgian cooperative BelOrta were cheered this week by a visit from Flemish minister of agriculture Jo Brouns, for a tour of the group's facilities and a discussion of the big challenges facing the fruit and vegetables sector.
Following a general presentation, the minister took a tour of the sales hall, the inspection area, the distribution centre, the packing department and the crate washing facility.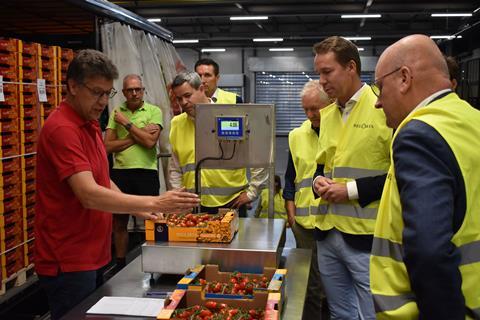 "Today I was able to take a look behind the scenes and determine for myself what important role cooperatives such as BelOrta play in bundling the supply of individual growers in order to approach the market efficiently and effectively with the full range of vegetables and fruits," the minister said. "I was also able to get acquainted with the many sustainability research efforts at the level of the cooperative and its growers."
BelOrta stressed its commitment to research and development, with the focus on sustainable cultivation and entrepreneurship, innovation and taste, to create a "future-oriented local horticultural sector".
"The interest of minister Brouns in our cooperative is heartening for our producers," said Dirk Bertels, chairman of BelOrta. "After all, they are faced with enormous challenges. For example, not only have the costs of gas and electricity increased exponentially, the price of fertiliser and phyto, for example, have also risen sharply and hardly any permits are granted for greenhouse horticulture. We are also concerned about future fertiliser legislation and the availability of sufficient quality water."
"I am aware of the difficult challenges facing the sector," Brouns reassured growers. "That is why we are doing everything we can to enable the new European market organisation for fruit and vegetables to come into effect on 1 January 2023. That way, producer organisations and their growers can receive the necessary support to take on these challenges collectively."