Group extends its collaboration with Miraculous as part of its new 'Kiwi Origin South Europe' campaign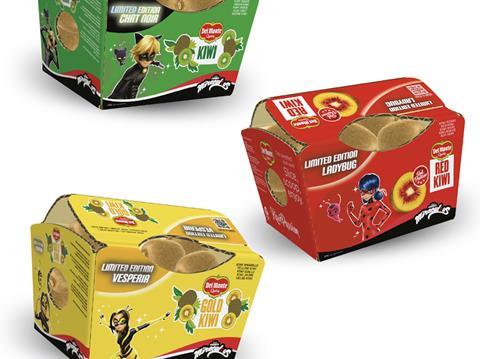 Fresh Del Monte has revealed that it is extending its collaboration with worldwide brand Zag Heroez Miraculous for a limited edition promotion for its new 'Kiwi Origin South Europe' campaign.
The announcement was made by Hyde Schram, vice-president, global partnerships, Zag, and Thierry Montange, marketing director, Fresh Del Monte Europe and Africa.
The group's partnership with Miraculous initially launched in Summer 2023 with superheroes Ladybug and Cat Noir from the television series Miraculous – Tales of Ladybug and Cat Noir featured on packaged goods and fresh fruits including pineapples and bananas.
The new limited promotion extends the collaboration with Del Monte kiwifruit exclusively from the European region in three different pulps: green, gold and red.
Ladybug and Cat Noir are featured on the eco-friendly paper packaging of the kiwifruit, which will be available from October 2023.
"Del Monte kiwis from Southern Europe are well known for their sweet and flavourful taste, due to the richness of the European soils where they are grown," said Marina Bastianelli, director of the Del Monte kiwi programme and diversification in Italy and Greece.
"They come from Italy, Portugal, Spain, France and Greece. In short, they will not have to travel around the world before they reach your tables.
"Del Monte's passion and dedication to producing high-quality kiwi fruit results in delicious and nutritious fruits that are appreciated by young and old alike," Bastianelli noted.
Schram said that Zag was always looking for ways to encourage Miraculous fans to make healthy food choices, and the collaboration with Del Monte had proved to be a big hit with children and their families across Europe.
"Now our Miraculous fans can enjoy seeing their favourite superheroes on these super sweet kiwis, a great addition to any fruit salad or smoothie, or simply cut in half to be enjoyed with a spoon."