Drought conditions in Europe are expected to slash apple and pear volumes this season, with squeezed growers hoping for better prices as a result
The continued heat and extreme drought being experienced across much of Europe are likely to lead to the downward revision of this season's apple and pear production forecasts delivered at Prognosfruit earlier this month.
France, Spain, Italy and the Netherlands all face water shortages, riverbeds are drying out across the continent and arid conditions are severely affecting energy production, agriculture and river transportation.
Experts were already labelling the 2018 drought in Europe the "worst for 500 years". This year, they say, it's worse than that.
"We had a very hot summer this year," says Marc Peyres, commercial director at French exporter Blue Whale, speaking to Fruitnet's Chris White on the Fruitbox podcast. "Thankfully it was 40C for just two or three days, but we are very preoccupied about the drought. Anyone from the countryside can see the consequences. I'm originally from the Landes area where we've seen thousands of hectares of forest burned. It's very unusual."
He predicts that the effect of the heat on early apple varieties including Gala, which reached maturity as temperatures peaked, will be "severe".
"We won't be able to harvest 100 per cent of the variety before it's too mature," he regrets. "The situation is the same in all of southern Europe, not only in the south of France – from Greece to Portugal. For Gala, which is the second variety in Europe, the consequence will be 20-30 per cent down on the forecasts released earlier this month at Prognosfruit. The situation is now completely different."
High temperatures equally have an impact on fruit size development, he says. "We were expecting good sized fruit this year," reveals Peyres, "but now we're expecting much smaller sizes. When we lose one size, that's more than 10 per cent in volume, so imagine the consequences all across Europe."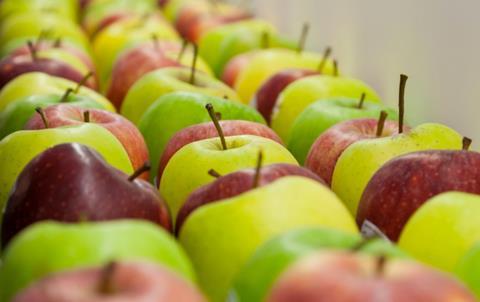 Drought is an even bigger issue for production than the heat, according to Peyres, with much of northern Europe lacking the sort of irrigation that is commonplace in the south of the continent.
"All orchards with poor or no irrigation may have trouble with food collection," he says. "Fruit will drop from the trees and the sizes will not be there. When we put together the high temperature for early varieties and the drought for the full crop, we could go from having one of the biggest crops in Europe to one of the smallest ones."
Philippe Binard, secretary general of WAPA, the World Apple and Pear Association, said the association hoped to be able to provide an update on the impact of the drought on volumes at the end of September.
Low margin for error
Some growers fearing low prices may be cheered by news of a lower than expected harvest, but the cost of living crisis makes it even harder to pass on a larger share of the cost.
"In the last few months, we have suffered increased costs for everything – transport, packaging, labour, now energy – so it's massive," he states. "If we don't talk about transport, we estimate on average we need at least €0.12-€0.15 per kilo to compensate just the cost of packaging, labour and energy materials compared with one year ago."
Growers have become accustomed to low margins, but with all costs rising, something's got to give, according to Peyres.
"We are not in a business with high margins where we can absorb this sort of inflation," he says. "Before this season, when we had a big crop, with an excessive supply, we could imagine the situation would be difficult. With the new situation due to the consequences of the drought, maybe the balance of supply and demand will be reversed.
"Everybody is fighting on retail price," he continues. "But when I sell a kilo of apples at €1.30 and I see them on the shelf at €3.50 a kilo, there is probably space for the market to deliver more money back to the grower. We definitely need to talk about prices and margins in our category."
Listen to the full episode of the Fruitbox podcast here