The Dutch group remains adaptable when facing up to key issues, with its breeding programmes focusing on disease resistance and cost-effectiveness
Rising costs across the value chain have affected many in the business this year, and leading seed company Rijk Zwaan has seen the impact on customers first hand.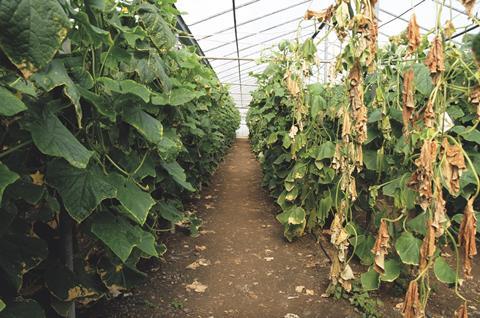 "What currently has the biggest impact for our customers is the increased gas and electricity prices, labour prices, fertilisers and all related costs," says Jan Doldersum, manager chain and retail.
"Currently there is a shift in production towards Mediterranean countries due to increased costs. It's not economically viable to produce under lights for the coming winter season, this means that a majority of the lighted crops segment in the whole of northern Europe will disappear for this season."
The big question is whether this shift will be for one season or if it will continue during the coming years. Meanwhile, with inflation driving prices upwards, the focus will be more on commodity lines with less attention on new launches, Doldersum predicts.
"There is clear interest in commodity ranges and requests for more savings and reducing labour costs," he continues. "So our mechanical harvestable Salanova range is very popular. Our cucumber portfolio and breeding programme is very successful on a global scale and we are underlining this with our newly launched campaign 'The Future is Sky'.
Disease resistance remains a high priority for Rijk Zwaan's breeding programmes, Doldersum confirms, and the company has launched an overarching campaign called Defense, with the Defense label representing resistance against plant diseases.
"In tomatoes there is still a major concern for growers of the Tomato Brown Rugose Virus (ToBRV)," he notes. "Many growers worldwide are affected and are looking for solutions. In our tomato breeding programme this is our highest priority and we expect to launch the first commercial varieties soon."
Doing more with less is a trend that is being replicated across the global fresh produce industry, Doldersum says, so making better use of the natural resources available is crucial.
"For example in the US there is a transition going on from open field to indoor greenhouses, especially for lettuce. This means a big shift and for retailers it is interesting to offer more locally produced product from nearby greenhouses, instead of lettuce being shipped on long distances."
Rijk Zwaan has been happy that customers and staff alike have been able to travel once more and visit the group's demo and variety trials.
Many events have taken place in 2022, starting with Rijk Zwaan's Open Field Days in June in Fijnaart in combination with its newly opened Hydroponic Lettuce demo in Dinteloord.
In the first week of July the group hosted a global melon and watermelon event in Murcia which generated interest in its CandyBall watermelon and citrus-flavoured melon Maui, the latter of which was jointly introduced with its Spanish partner Jimbee.