Marvel characters including Iron Man, Thor and Spiderman are fronting European promotions of smaller sized Jingold kiwifruit for kids following a licensing agreement with Disney
Small is beautiful is a bit of an old one, which is why Italy's Jingold has come up with the "Superheroes of Taste" to "protect and guarantee" the quality of its kid-sized kiwifruit, and add value for those smaller fruit sizes.
"Small size, amazing taste!" is the claim, alongside a swinging mini-Spiderman and a roaring baby-Hulk, among other familiar Marvel heroes, the result of a new licensing agreement with Disney, and certain to grab the attention of children and adults alike in Italy, France, Germany, Austria and Switzerland.
Packed in open cardboard containers, the mini-kiwis come in green, red or gold. Backed by the heroes, communication on the packaging and signage focuses on the freshness and sweetness of the different varieties, as well as their role in providing good health and strength.
According to the company, its guarantee of product freshness comes also with a commitment to continually reduce its environmental impact at every stage of the production process, including the use of "renewable sources of energy, low-impact growing techniques, and a new range of sustainable packaging".
"This season we have big sizes of kiwifruit," explains Jingold's Federico Milanese, "but as we are increasing production by 40 per cent, we will have more smaller fruit to handle anyway, so this can help us to sell the smaller sizes of less than 90g. Sometimes the large sizes can be too much for a child and these are perfectly matched with their daily vitamin C requirement."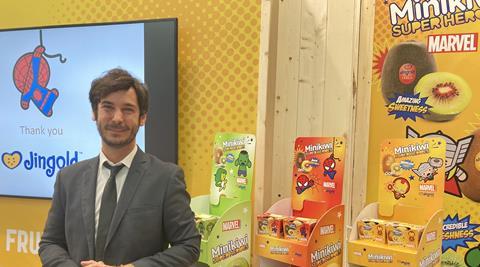 Now, says Milanese, everyone is waiting to see the response from consumers. For the growers, getting more money for their smaller fruit would naturally be a big help at a time of rising costs.
"There is a big gap between the price of the large and the small sizes, so this may help us to give more value to the small sizes," he adds. "They are perfect – just a bit smaller."