The impacts of climate change are becoming increasingly tangible globally, as T&G and its grower partners in New Zealand harvest and export new season apples following February's cyclone
Some apple orchards in New Zealand's Hawke's Bay and Gisborne did not escape the impact of February's devastating cyclone, but many others were completely untouched, according to Craig Betty, director of operations at T&G Global.
"The fruit we've already harvested and shipped to our customers in Asia looks great," he confirms, "and we'll continue harvesting throughout March and April for our domestic and export markets. Orchards in the South Island were completely unaffected by the cyclone and following a hot summer the South Island crop is developing some nice ripening and colour, and good sizing on our premium Jazz and Envy brands."
Such weather extremes highlight the importance for the world to continue to mitigate emissions and adapt to a changing climate, and this is a high priority at T&G, according to head of corporate affairs Adrienne Sharp, with climate action a "key pillar" of the group's broader sustainability strategy.
"Aligned with our ultimate parent company, BayWa, our current target is to reduce scope 1 and 2 greenhouse gas emissions by 22 per cent by 2025 against a 2017 baseline and then, longer term, achieve carbon neutral operations by 2030," outlines Sharp. "We are making good progress towards this.
"In 2022, T&G reduced its combined scope 1 and 2 emissions by 15 per cent, compared to the year prior, and since 2020 we have sourced 100 per cent renewable electricity at all of our New Zealand and international sites, through a combination of self-generation and the purchase of renewable energy certificates. We have recently completed our first calculation of our scope 3 footprint and set a 2021 baseline and, together with BayWa Global Produce, we're now working towards setting a verified Science Based Target which will provide us with a clear path to reduce our emissions in line with the Paris Agreement to limit warming to 1.5oC."
As well as transitioning to a low carbon future, T&G is focused on reducing waste by moving to recyclable packaging for some of its apple multi-packs.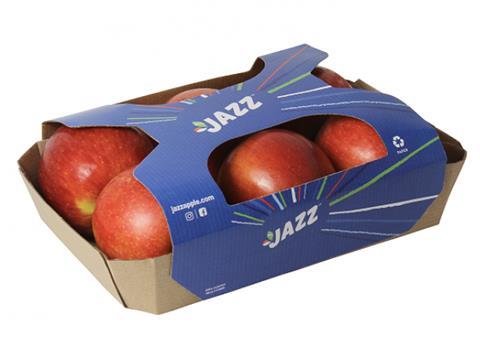 "As part of T&G's commitment towards achieving 100 per cent recyclable packaging by 2025, we introduced new recyclable packaging formats for our Jazz brand in 2021," adds Rachel Stotter, director international sales and marketing. "Each year we sell over 3.5m cardboard foodtainers of Jazz in Europe."
Positioned as the ideal "snack on the go", Jazz is available through retailers in the UK, Belgium, the Netherlands and Germany, promoted as a healthier snacking choice for consumers, and backed up by the catchphrase, "It's Jazz time".
"It's Jazz time" is aligned with key dates throughout the year," says Stotter, "such as 'Back To School Jazz time', and promoted through in-store displays, sampling, billboards and social media."