The Italian apple consortium showed off its new 100 per cent paper packaging at this week's BioFach exhibition, as well as an array of organic apples
Vip, Italy's Val Venosta apple consortium, took the opportunity of this week's organic exhibition in Nuremberg, BioFach, to demonstrate its leadership in European organic apples, including the launch of its new 100 per cent paper packaging.
The new packaging, featuring a linen net to provide product visibility, is ready to be released on the market from the beginning of March, according to Vip.
The consortium said the new packaging was "emblematic" of its "attention to the fullest environmental sustainability".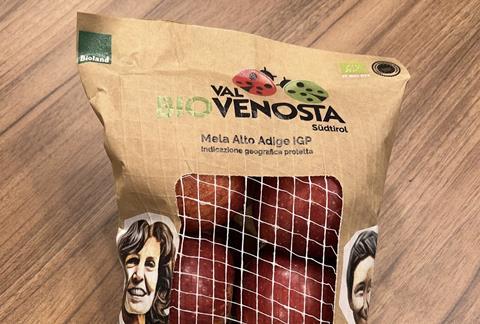 The consortium guarantees availability of organic apples for the entire year, thanks largely to a huge number of varieties produced.
"In addition to the Organic Golden Delicious, on the market from September for the next 12 months, and the Organic Gala, available from the end of August to April, Vip offers a range of organic club apples which have different tastes, ripening and marketing periods: SweeTango, Ambrosia, Kissabel, Envy, Kanzi and Cosmic Crisp, satisfying the requests of customers until late summer," the consortium stated.
"This multiplicity of varieties provides advantages on several fronts: dividing the market risk, which is essential in such a convulsive moment; satisfying tastes and preferences of a variety of consumers; and serving the distribution chains of many countries around the world."
Vip named Italy and Germany the top target markets, followed by northern Europe, Spain and the Middle East.
Organic varieties product manager Gerhard Eberhöfer highlighted the important role of the processing and high-capacity packaging plant it created in 2019, entirely dedicated to organic products, allowing "timely reaction to market requests and 100 per cent traceability of each apple".
Eberhöfer also recognised the importance of Vip's particular location, especially given recent heat waves in Europe.
"During the hot summer of 2022, our Alpine position and the ideal microclimate helped us a lot," he said. "Thanks to these conditions, which are peculiar of Venosta Valley, our apples maintain the right freshness and crunchiness and a long shelf-life."