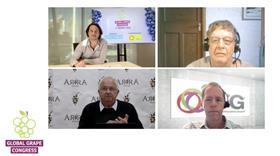 The international table grape industry came together on 17 March for the online Global Grape Congress, streamed live in two separate parts from Melbourne and London.
Focusing on the Asian market, the first part included discussions on India, Australia's export growth, South African promotions on the Chinese market and Korea's retail sector
Nitin Agrawal of India's Euro Fruits stated that the domestic market was a big untapped opportunity for the Indian table grape industry.
'We see a huge change in the coming years in the domestic market, which will favour branded grapes,' he said. 'India's grape industry lacks new varieties. It will take some time for them to come in – partly due to industry fragmentation. But we expect this to improve in the coming years, providing premium opportunities.'
Clare Lee of Korean retailer Emart said the absence of in-store tastings due to Covid-19 had limited its ability to promote new varieties to consumers in recent years, but she believed the trend was clear.
'We are following the global grape trend, with IP varieties expanding fast,' she said. 'We try to introduce various varieties of grapes to the consumer. These days, when you visit Emart, five to six varieties are displayed on the shelf. Just three years ago, we only had green seedless and red globe. The growth in new table grape varieties is a welcome development for us. It helps us to create more excitement around the category and we look for ways to promote them in-store.'
Turning to China, San Miguel's Vivian Chen explained how the exporter was working to maximise its success in the country, where it has opened a new office.
'For younger consumers, grapes don't just have to have good taste and packaging,' Chen said. 'They need to be easy to buy at the touch of a phone. Plus, health messages are important. They want products that are good for their body and skin.'
The future of grapes
The second half of Global Grape Congress included an analysis of a host of challenges, including rising costs and logistical issues, were impacting the European grape market, with a special focus on the UK.
Live discussions were held on the future of grapes when it comes to breeding and marketing, as well as on the urgent need for sustainability.
Andy Higgins of US breeder IFG stressed the role that breeders can play in a rapidly changing world.'I think the investments that are being made throughout the entire chain are significant, and the challenges are significant,' he said. 'We've mentioned rising input costs, rising challenges with production, transportation and logistics. Breeding companies offer solutions to many of those challenges. The impact we can have on the entire success of the supply chain is significant and the only way to do that is to introduce new cultivars and new varieties that would meet some of those challenges.'
Shachar Karniel of the Arra breeding programme from Grapa Varieties said that increasingly unpredictable climatic conditions, including late and abundant rainfall, had shown the wisdom of Arra's early efforts to breed for rain tolerance.
'It's not enough to be early, it's not enough to be good, you need to be at least tolerant to the rain,' he said. 'Climate change has proven that our vision was right. When it comes to unexpected rain, the Arra 15 is very tolerant. At Grapa we are looking at producing the same level of resistance in different colours and at different times of the year.'
Higgins said that rain resistance was also a focus at IFG, with Sweet Celebration and Sugar Crisp showing good tolerance.
'Table grapes are also one of the most labour-intensive crops around,' he added. 'So as breeders we have an obligation to be thinking about how our varieties can contribute to that. What kind of pruning techniques are required, what kind of thinning is required, what kind of post-harvest handling is required to actually get that fruit in a punnet successfully? Today a lot falls on the grower, the marketer and the packhouse, but we know that there's a genetic component to all of that.'
Breeding varieties to survive drier weather and through longer, more intense heat waves is an equally formidable challenge, according to Karniel.
'We are trying varieties in extreme regions to see their adaptability,' he said. 'But you must have low-chilling varieties – this is the main factor for breeding resistance to drought conditions. The varieties must wake up in the spring easily, and for this you need low-chilling varieties. Second, especially for the white varieties, you need to be sure not to have sunburn.'
The California Table Grape Commission's Alyson Dias revealed research showing that food choices had changed significantly due to Covid-19 as consumers continue to seek to boost their immune systems, creating opportunities for health messaging around grapes.
The same study, she said, showed that 86 per cent of respondents that had switched to buying grapes online during the pandemic would continue to do so, making digital forms of communication essential.
Speaking on organic grapes, Volkert Engelsman of Dutch organic supplier Eosta revealed that the organic grape category was still very underdeveloped.
'People tried in the past, but the varieties weren't there and the growing conditions were challenging,' he explained. 'But now with these new varieties that are more resilient and have a natural berry size and natural colour and don't need Dormex to kickstart the season, that of course helps enormously to produce grapes organically. And since the market is developing fast, with a 25 per cent organic market share ambition defined by the EU, there's enormous growth potential for organic grapes all of a sudden.'