Landmark event finds UK fresh produce business very much on right track, although it also faces some big hurdles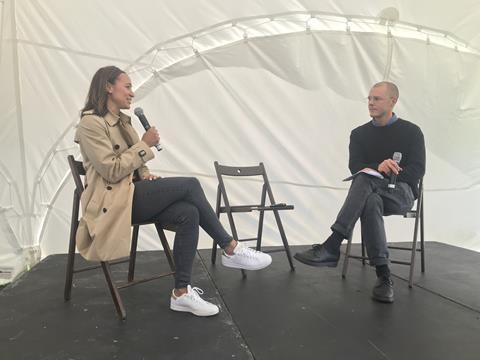 Olympic champion and three-times world champion heptathlete Dame Jessica Ennis-Hill was the star of the show at Festival of Fresh, as more than 300 people from across the UK fruit and vegetable trade came together on Wednesday 8 June for a day of inspirational talks, face-to-face networking, and great food.
Organised by Fresh Produce Journal and hosted outdoors by Berry Gardens at its new, state-of-the-art packhouse near Maidstone in Kent, the event celebrated the very best of Britain's fresh produce business.
It also gave everyone an opportunity to discuss some of the industry's big opportunities and challenges, with contributions from key players in the country's fruit and vegetable supply network, including retailers, wholesalers, suppliers, importers and marketers.
Confidence in the enduring and expanding appeal of fresh produce was typified by Rob Harrison of Berry Gardens, who spoke about the need to capitalise on new consumer interest in healthy eating.
"We've got an amazing product," he said. "it's super healthy and I still think fantastic value. As long as we push that message, hopefully people will still see it as relevant."
But there was also an awareness of the challenges at hand. One of the stand-out messages from the day's discussions came from Rowena White and Dominic Edwards of Asda, who spoke about the impact of inflation on fresh fruit and vegetable supply chains.
"We know that customers are really cash-strapped at the moment, and we're seeing that in their shopper behaviour and the volumes they're buying," White commented.
Asda has just relaunched its lowest-price range as Just Essentials by Asda, in an attempt to offer those struggling shoppers the core ingredients they need to make popular dishes.
It has also tried to shield those customers from price increases, Edwards said. "Produce inflation is only at 3 per cent, compared with 9 per cent overall. Our cost inflation is a lot higher than our retail inflation. We're not passing that inflation on, and our margins are really under pressure."
On the right track
Festival of Fresh's two parallel programme tracks gave attendees the chance to switch between talks centred around the trade itself, and a more technology-focused series of demonstrations.
It also offered a platform for some important new announcements. British Summer Fruits, for example, revealed that it has rebranded as British Berry Growers.
Nick Marston, the association's chairman, said the change was designed to emphasise its focus on UK growers, the industry and its needs, as it bids to make the UK self-sufficient on berries and export one-third of its production by 2035.
"We want to ensure our growers are at the heart of what we do, promote R&D, excite ongoing political support, and develop funding," he said. We face a difficult and challenging period, and support from government and growers is essential ensure we continue to grow."
Another big topics for discussion was a shortage of labour. Victoria Prentis, UK Minister of State at the Department for Environment, Food and Rural Affairs, responded to concerns about the shortage's impact on fresh produce supply with the news that an agreement to secure an extra 10,000 workers for the horticulture industry had been agreed the previous evening.
"I have definitely had a reality check," she admitted. "I am totally aware there is a problem with seasonal labour, and I am working as hard as I can to get extra workers."
She also revealed that the second part of the National Food Strategy – a government plan to build a more sustainable and healthy food system in the UK – will be published next week.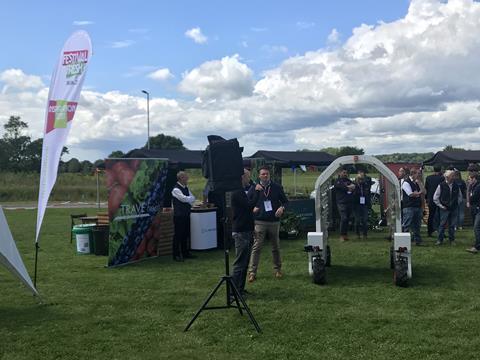 Game-changers
Festival of Fresh also featured some of the industry's most exciting and potentially game-changing technologies in the Science & Technology tent. These included cutting-edge robotics, data-driven artificial intelligence, and vertical farming.
Oliver Kaberry of Jones Food Company confirmed that it was on track to open the world's largest vertical farm in Gloucestershire, where it will produce herbs and leafy greens, by October.
"We've shown that vertical farming can successfully replace open field farming in some products," he suggested. "Our JFC1 farm produces 180,000kg of basil a year, which is 30 per cent of UK supply, on a footprint of less than two acres."
He added: "In the next ten years, vertical farming will play a major role in the food supply chain, allowing land to be put to better use, for example rewilding or growing alternative crops."
Attendees were also treated to a live demo of Saga Robotics' berry harvesting robot, and given the lowdown on recent developments in horticultural robotics by Simon Pearson of the University of Lincoln.
Inspirational figure
Later, in front of a packed audience, Ennis-Hill spoke to Fresh Produce Journal editor Fred Searle about her work as a brand ambassador for Berry Gardens and her life since retiring from competitive sport.
Over the past couple of years, the athlete has helped the company to deliver its message of healthy eating and nutrition to hundreds of thousands of social media followers since the spring of 2021.
"I'm definitely a big berry consumer," she revealed. "I have two young kids and they get through a lot of them. We put a lot of importance on nutrition and consuming the right types of food. Berries have always been a big part of my life, for nutrition in sport and now as a parent."
As part of the Berry Gardens campaign, Ennis-Hill has focused on food and nutrition, and in particular on educating children about the food they eat.
"It's been really exciting to be part of that campaign," she continued. "We've come up with snacks to prepare for kids – like sliced bananas with peanut butter and berries on top, which they have after school or take into school. We all have such little time at the moment, so this sort of thing makes a big difference, to be able to make those sorts of snacks in a healthy way."
Festival of Fresh took place on 8 June at Wares Farm in Linton, near Maidstone.