UK supermarkets are rationing fresh fruit and vegetables in stores as crop shortages leave shelves empty
Supermarkets are rationing fresh fruit and vegetables sales as import shortages and a severe drop in UK production have left bare shelves this week.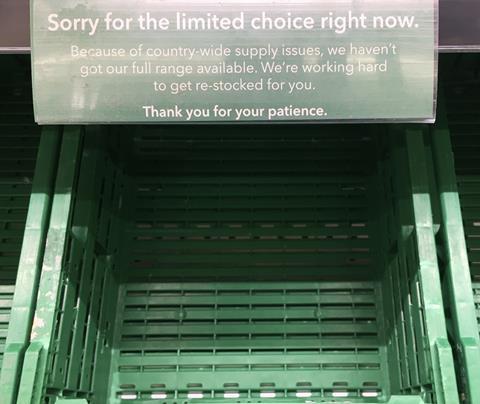 British greenhouse production is at a 40-year low due to high energy prices and labour issues, and severe weather across north Africa and southern Europe has hit import volumes. Greenhouse production in the Netherlands is also down due to high gas prices.
Faced with bare shelves, Morrisons put a two-per-customer limit on products including lettuce, tomatoes and peppers from Wednesday (22 February). Asda, meanwhile, on Tuesday (21 February) asked each customer to buy no more than three packs of tomatoes, peppers, cucumbers, lettuce, salad bags, broccoli, cauliflower and raspberries.
"Like other supermarkets, we are experiencing sourcing challenges on some products that are grown in southern Spain and north Africa," an Asda spokesperson said.
Then Tesco and Aldi on Wednesday (22 February) announced they would also restrict the sale of certain fresh produce items, amid mounting concerns over fruit and veg shortages.
Aldi said it was rationing the sale of peppers, cucumbers and tomatoes to three units per person "to ensure as many customers as possible can buy what they need".
The announcement was swiftly followed by Tesco, which had earlier said it had no plans to impose limits, but subsequently confirmed it would also introduce a three item limit on the same lines as a "precautionary measure" to maintain stocks. This was "in light of temporary supply challenges on some lines", the retailer said.
The Co-op, Waitrose, Sainsbury's, Marks & Spencer and Lidl said on Wednesday that they did not have any buying restrictions in place.
Pictures of empty supermarket shelves have been circulating on social media, after shoppers found it hard to get some items in recent days.
Minette Batters told the NFU annual conference in Birmingham on Tuesday (21 February) that UK greenhouse growers had mothballed many of their businesses due to high energy prices and post-Brexit labour shortages, "so we are seeing a huge contraction [and] the lowest levels of production since 1985, when records began.
Nationwide Produce managing director Tim O'Malley has warned that serious produce shortages and price hikes are likely for weeks.
The NFU said yesterday that the effect of energy costs on producers was a key factor and warned that farm-produce rationing could become a more frequent occurrence.