If passed, new bill would supercharge investment in UK crop innovation and reduction in pesticides, crop science group says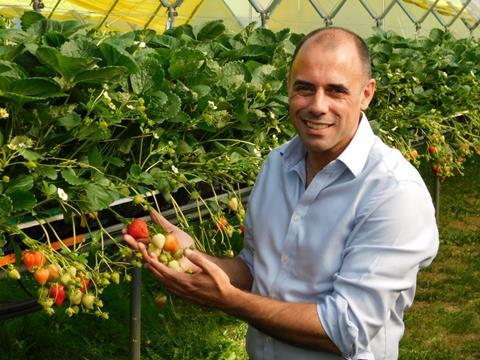 New legislation to be debated by MPs in Parliament today (31 October) could help unlock the UK's global leadership in plant genetic research, according to leading UK crop science organisation NIAB.
The Cambridge-based group has welcomed the return of the Genetic Technology (Precision Breeding) Bill to complete its House of Commons stages, and is urging MPs to support the Bill's ambition to drive innovation and investment in our agri-food sector, and to open new opportunities for research organisations and businesses.
NIAB CEO Professor Mario Caccamo said the introduction of the Bill had already led to positive conversations between NIAB and prospective research partners and commercial investors.
"We are already seeing increased interest in UK-based research investment and strategic partnerships as a result of the Precision Breeding Bill and the signals it sends that Britain's regulatory framework is set on a more pro-innovation trajectory. Importantly, that interest is coming not only from investors at home, but also from overseas.
"This could mark a turning point for UK-led innovation in plant genetics. For the past 20 years or so, the direction of travel for investment in crop science has been one-way – out of the UK to regions of the world such as North and South America which have adopted more favourable regulatory regimes.
"Over that time, remarkably, the UK has retained its leadership in fundamental plant genetic science and gene discovery research. This new legislation could help supercharge the private sector investment needed to unlock potentially significant advances for more sustainable farming systems, improved nutrition, and climate resilience," he said.
Professor Caccamo highlighted a number of ongoing NIAB research projects involving gene-editing whose prospects of commercial application would be boosted by the Bill's provisions, including coeliac-safe wheat, enhanced nitrogen and water-use efficiency in wheat, and flowering time variation in strawberry to extend the domestic growing season.
He added that greater access to technologies such as gene editing would boost NIAB's ongoing efforts to unlock the genetic potential of neglected pulse crops, such as peas, faba beans and soya, to provide a home-grown protein source with benefits for sustainable farming, healthy eating and climate change.
"The focus for gene editing research at NIAB is to help develop crops and farming systems which are less dependent on chemical pesticides and fertilisers, and which reduce the climate change impact of agriculture. These are all important objectives shared widely across the political spectrum for which new breeding technologies can offer tangible solutions," said Professor Caccamo.
"I would strongly urge MPs to support the Bill. Given the pace of climate change and insecurity of global supply chains, there is no time to waste."
NIAB is the UK's fastest growing crop science organisation, with rapidly expanding research capabilities in plant genetics, agronomy, farming systems and data science, the largest national field trials capability, and strong research links with industry, government and academia.
With headquarters in Cambridge, and regional offices across the country, employing more than 400 people across the UK, NIAB provides scientific research, technical services and practical advice to improve the yield, efficiency and resilience of crop production across the arable, forage and horticulture sectors.