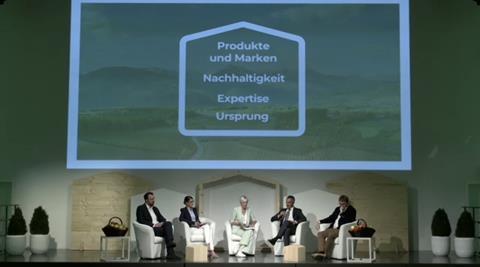 Italy's largest apple supplier Vog has unveiled a new corporate identity, Vog – Home of apples. The change is designed to reflect a more unified, centralised approach to a market that is increasingly international and one that demands fruit all year round.
Focused on the origin, expertise and sustainability that underpin the company's products and brands, the subtle rebranding is aimed squarely at trade partners, for whom the presence of a single source of high-quality apples throughout the year represents an important strategic advantage in an increasingly competitive marketplace.
"We call this new 'Home of apples' concept because that's our target, that Vog is the most important partner for you," explained the group's chief executive Walter Pardatscher. "It shows that we are ready to be present in the market and it also allows us to do our job and sell our members' products in the best possible way."
During a special online event to announce the new identity, Pardatscher and his colleagues spoke about a restructuring that would enable Vog to promote its core strengths.
Sustainable source
As well as a highly suitable, sun-drenched Alpine-Mediterranean climate in the South Tyrol, the supplier can also count on the expertise of its 4,600 members growers – many of them part of multi-generation, family-run businesses.
"Vog has always worked successfully in the sale and distribution of apples across Italy and worldwide," said commercial manager Klaus Hölzl. "Now we have more than 75 countries where we export apples to partners and supply chains."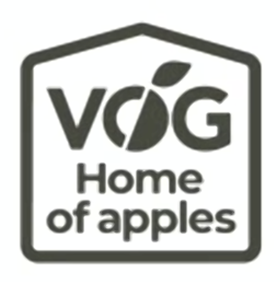 Alongside other stakeholders in the South Tyrolean apple sector, the group has also made considerable efforts in recent years to conserve natural resources, protect the environment and safeguard the future of those growers and their communities.
"Our approach is holistic and comprehensive," commented Vog's quality manager Kathrin Pirchstaller. "For us, economic sustainability is also crucial. Our focus is on sustaining profitability and added value, without endangering natural resources."
With that firm foundation in place, the Home of Apples' products and brands will continue to thrive, suggested head of marketing Hannes Tauber.
"With an average annual crop of 550,000 tonnes, our production represents 32 per cent of Italy's harvest and 6 per cent of Europe's," he pointed out. "We have changed a lot when we look at the range that we offer to our consumers, whose needs continue to change. Today's and tomorrow's consumers are most important for us."
He added: "For us, it is important to observe new trends and understand the current needs of consumers. Maybe new products will be added in future to complete our range. But the most important thing for us is that all partners – from farmers to sales partners to consumers – take advantage of new market trends."