The Turkish group has opened a high-tech greenhouse for tomatoes in the west of the country, with big hopes for European and Middle Eastern markets
In 2021, Turkey's Koyuncu Group marked its 55th anniversary with the company's first move into the world of tomatoes, establishing a modern geothermal greenhouse in the Sandikli district of Afyonkarahisar province in western Turkey. According to the company's head of agriculture, Merve Koyuncu, Turkey has big potential to supply greater volumes of high-quality tomatoes to Europe, where Koyuncu Group plans to develop its Bella Fresh brand.
Would you tell us a bit about Koyuncu Group and your tomato production facilities?
Merve Koyuncu: Koyuncu Group was established in 1966 and today is a strong-standing family company and very successful in various industries. Koyuncu Group has more than 1,000 employees and over TRY1bn (€55m) of operating income in the fields of fuel oil, automotive, vehicle inspection, energy, salt production, chemicals, agriculture, marble and the defence industry.
Our geothermal heated modern technological greenhouse gives us 10ha of closed production for tomatoes, located in Sandikli, Afyonkarahisar. We use modern soilless farming practices in our facility. By providing ideal climatic conditions and sterilisation for plants, we can obtain high quality produce through all four seasons. All protocols required for the healthy growth of our products, which are kept under remote control monitoring 24/7, are followed by our expert agricultural engineering staff.
What varieties are you producing and which are growing in popularity?
MK: We produce mainly vine tomato varieties. Our annual production volume is around 5,000 tonnes of high quality tomatoes, which are supplied to domestic and foreign markets. We have also been trying to produce small quantities of exclusive tomatoes like cherry and cocktail varieties. We can develop them in accordance with customer requests, depending on the market. We forecast increasing demand from Europe for our vine tomatoes next season. We currently supply well-known European supermarket chains, but unfortunately during the summer the prices are not competitive for export, but we still try to make it. We export 100 per cent of our production during the winter season from September to May to European countries, mainly Germany, the Netherlands and Romania.
We are focused on promoting our "Bella Fresh" brand on the European market. We aim to offer our customers a year-round supply of high quality products that match European health standards. Bella Fresh has long been a top brand in Turkey and we believe it will be in Europe as well.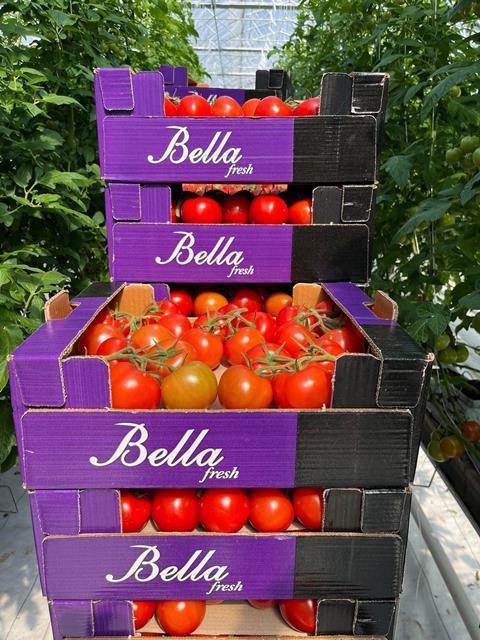 What further potential do you think there is for Turkey when it comes to tomatoes?
MK: Turkey has big potential in terms of tomato production in the future. In the winter, Turkish producers have an advantage over European producers since we use geothermal energy, which is low cost. Turkish vine tomatoes produced in modern greenhouses show very good quality, making them competitive with Dutch ones.
Long-distance transportation, such as to East Asia, is a challenge for fresh vegetables. But we exported tomatoes to Qatar and Dubai during the summer. The Middle East market may be attractive for the future. We have been getting positive feedback about our quality from our clients in Qatar and Dubai.
Costs are rising, while the impact of climate change is becoming more pronounced. What do you see as the main challenges right now?
MK: Our production can be affected negatively by the temperature differences between day and night, as well as unpredictable weather conditions during mid-season, which are a result of climate change. We create the ideal climate for the plants in our greenhouse based on atmospheric air data. This is advantageous since we produce in a closed system, monitoring all climatic conditions.
Covid-19 showed the importance of food, and we saw an increase in demand for our tomatoes. We have been able to produce continuously throughout the pandemic. Thankfully we haven't suffered from ToBRFV yet, but we are following very strict hygiene protocols in our greenhouse to avoid the spread of bacteria and viruses.
Nevertheless, rising fuel costs and logistical issues are problems we all have in common in this industry. They are a challenge, but we are managing them.
Is sustainability becoming a priority at the company?
MK: Sustainability is our top priority. We use biological controls in our production so that our tomatoes are grown without any pesticide residues in our greenhouse. Our agricultural engineering team is doing an excellent job in determining the company's sustainability principles. We have not experienced any pesticide residue problems so far.