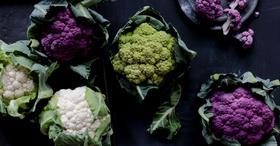 Vegetable breeder Rijk Zwaan says it wants retailers, traders and other chain partners across the world to bring more colour to the fresh produce category and, by doing so, encourage consumers to eat more healthily.
During a series of international events planned for February, the company will showcase a broad array of vegetables that it has developed to help them achieve those goals.
"Who can resist a surprising purple Lavender cauliflower, or a mix of colourful snack vegetables?" asks Jan Doldersum, Rijk Zwaan's chain and retail manager.
"And have you seen our Sweet Palermo pointed peppers in an eye-catching range of red, orange, yellow and even chocolate colours?"
Colourful vegetables persuade people to eat them, Doldersum argues. Even lettuce, which is not typically associated with any colour except light green, can offer innovative, colourful varieties, he adds.
"Our newest Salatrio concept provides consumers with an attractive lettuce bouquet featuring an interesting mix of colours and leaf shapes."
Of course, it's not simply a question of developing different hues. Many consumers also want year-round availability, excellent shelf-life and consistent high quality.
That requires close collaboration between growers, retailers and other partners along the supply chain, Doldersum says.
"As a vegetable breeding company, our aim is not only to bring innovative vegetable varieties to the market, but also to develop strong collaborative relationships in the value chain and to be a partner for sourcing solutions and category growth," he explains. "We share the ambition to be successful together."
Something else that lots of shoppers want nowadays is to know that they are having as light an impact on the environment as possible.
By breeding vegetables with longer shelf-life, Rijk Zwaan wants its partners to reduce and eliminate packaging wherever they can.
"Examples include our sweet peppers, tomatoes and cucumbers, which have been bred to have a stronger skin," Doldersum points out. "This extends the shelf-life and makes plastic packaging a thing of the past."