Fresh produce group renews its alliance with No Kid Hungry at it targets nutritional, fitness and wellness influencers in the US
Dole Food Company has renewed its partnership with No Kid Hungry, a national campaign working to end childhood hunger in the US.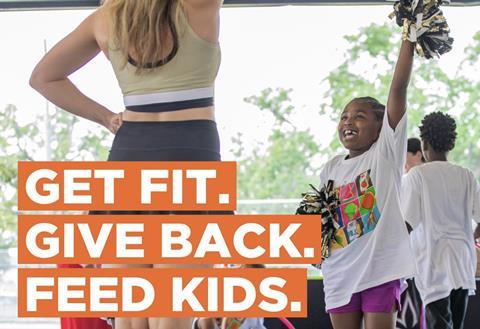 The company's alliance with the national nonprofit began in summer 2020 in response to the impact of Covid-19 when schools closed and millions of US children were left facing hunger.
The collaboration between No Kid Hungry and the fresh produce leader is highlighted by nutrition education, fund raising campaigns and at-retail initiatives to help give some 9m children in the US living with hunger access to three healthy meals a day.
Dole is also encouraging consumers in the US to get 2023 off to a healthier, more active start by becoming the presenting sponsor of Get Fit for No Kid Hungry, an influencer-based health and wellness fundraising initiative designed to rally the nation's top fitness, wellness and nutrition experts to host health-related livestream classes and web-based instruction throughout January.
In addition to sponsoring the programme, Dole is encouraging its own partner bloggers and influencers to inspire their followers to get fit and give back in the New Year by donating to No Kid Hungry.
"We are honoured to work alongside No Kid Hungry in the quest to ensure that every child in the US gets the healthy food they need to thrive," said William Goldfield, Dole Food Company's director of corporate communications.
"Addressing hunger and food insecurity for children is at the core of the Dole global mission of providing the tools for a healthy, happy, balanced life for all," he continued. "The sponsorship of Get Fit in particular allows us to set a healthy, active tone for 2023 while helping to support the most vulnerable throughout the year."
"We are so grateful to be partnering with Dole for the second year in a row on Get Fit for No Kid Hungry," said Diana Hovey, senior vice-president, corporate partnerships at Share Our Strength. "Their dedication to promoting health and well-being for all families makes them the perfect partner for helping to raise the critical funds and awareness needed to end childhood hunger."
Dole has recruited several of the key Get Fit for No Kid Hungry influencers participating in this year's 2023 programme, including Charm City PT, Yoga Athletica and Dr Rachel.
The company is encouraging its social media followers, employees, customers, Dole Nutrition News e-newsletter subscribers, growers, retailers and other industry partners to contribute to the effort.