Grocer says it supports the future of farming as it offers indoor, vertically grown fresh produce for first time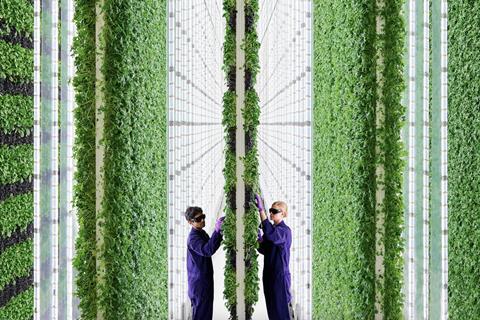 Indoor farming specialist Plenty Unlimited has announced that it is beginning its expansion to Southern California in partnership with gourmet grocer Bristol Farms.
Outside of local markets in the Compton community, Plenty leafy greens will be available in Southern California exclusively at Bristol Farms for the remainder of the year.
According to a statement, it marks the first time Bristol Farms has carried indoor, vertically grown produce, furthering the grocer's commitments to innovation and freshness.
"At Bristol Farms, we pride ourselves on being the go-to shop for the best tasting, freshest produce items on the market," said Scott Wiggans, produce director for Bristol Farms.
"Plenty is a great example of a mission-driven brand that is focused on unique agricultural innovation. This makes them a great fit for Bristol Farms.
"For the last 40 years, we have been leading the industry in providing our customers with the highest quality and most flavourful products available and we look forward to bringing local indoor vertical farming to our customers," he added.
Bristol Farms is offering its guests Plenty's pesticide-free leafy greens, including baby arugula, baby kale, crispy lettuce and mizuna mix, a blend of baby bok choy and Japanese mustard greens.
Plenty greens will be available at all Bristol Farms locations throughout Los Angeles County, Orange County and Santa Barbara County, including the new, 34,000-square-foot Bristol Farms Newfound Market in Irvine Spectrum Center.
"We are excited to begin our expansion to Southern California and have Bristol Farms introduce Plenty's delicious, pesticide-free produce to its shoppers," said Dana Worth, senior vice-president of commercial at Plenty. "We can and will stabilise our food system with the help of committed partners like Bristol Farms and discerning consumers who take pride in what they eat."