The UK organic market showed its resilience in 2022, recording positive growth in spite of the challenging environment, according to Soil Association Certification
Soil Association Certification has released its Organic Market Report 2023, which shows the UK organic market enjoying good growth in spite of the multiple present challenges, including the cost of living crisis, high inflation, the impact of the war in Ukraine and Brexit.
The UK market for organics is now worth £3.1bn, according to the report, helped by sales growth of 1.6 per cent in 2022.
"Today eight out of ten supermarket shoppers buy organic and many are cutting their spend or switching to conventional products because of price pressures," said Soil Association Certification commercial director Alex Cullen. "But crises don't last forever. Inflation will come down and shopper confidence will return. In organic there is an amazing momentum building with the potential for strong future growth captalising on the high levels of consumer trust and confidence it holds by meeting their needs for sustainable and healthy food."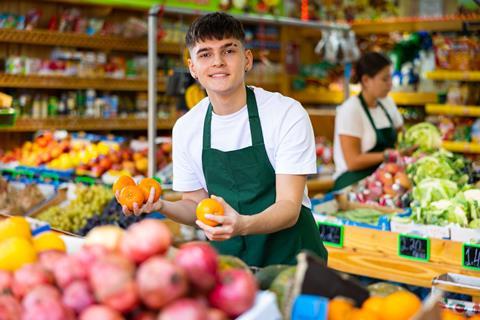 Due to the cost of living crisis, organic sales in supermarkets fell 2.7 per cent in 2022, with the share of the category falling from 1.8 per cent to 1.7 per cent. However, in a recovering foodservice industry, organic sales grew by an impressive 152 per cent.
According to the report, the UK's organic farming area increased by 3.6 per cent in 2021, including land undergoing conversion, which was up 34 per cent.
"There was some relief for organic farmers as they don't use chemical fertilisers," Soil Association Certification stated, "so they weren't impacted by escalating fertiliser prices sparked by the war in Ukraine. This also presents an opportunity for the organic farming movement to grow, as conventional farmers look to cut costs by adopting more natural ways to fertilise their crops."
With further economies of scale across the organic sector, it said, the more prices would come down, helping to make high quality, healthy organic food accessible for all.
Soil Association organic farming advisor Adrian Steele commented: "Both the EU and Scottish governments have pledged to grow organic land significantly by the end of the decade, and although Westminster is dragging its heels on a similar policy they are backing organic through the doubling of support payment rates last year. The new Environmental Land Management Scheme also incentivises many organic farming practices like eliminating insecticides and using legumes for soil fertility instead of chemicals."
This year's Organic Market Report includes a new Sustainability Report, compiled with the aid of WWF, the Fairtrade Foundation and FSC, which stresses the need for a roots-up, holistic approach to fixing the food system.
"Organic is a good choice for governments, business and individuals because it is a ready-made solution for the climate crisis," it stated. "Increasingly people are recognising the crucial role that organic farming can play in restoring nature, replenishing soils and providing clean air and water as well as nourishing food."