Both Defra and the NFU respond positively to the publication of John Shropshire's independent review of labour shortages in the food supply chain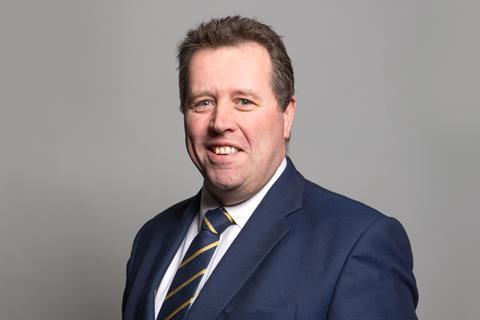 Defra farming minister Mark Spencer has reiterated the government's commitment to supporting farmers in the wake of the publication of John Shropshire's independent review into UK labour shortages in the food supply chain.
Commenting on the release of the document commissioned by Defra last year, Spencer said: "Since commissioning the review, we have held our first ever UK 'Farm to Fork' Summit at Downing Street, where we recognised the importance of ensuring the industry can access the labour it needs – both on farm and across the supply chain.
"We have confirmed, earlier than in previous years, that 45,000 seasonal worker visas will again be made available to the horticulture sector for 2024, with the potential for 10,000 further places if there is sufficient evidence of need, and contingent with improvements in worker welfare.
"We have also provided new funding this year for a £12.5m research and development fund for automation and robotics, as we know they have huge potential to improve productivity and sustainability and want to encourage investment in the technology of the future."
He added: "I know first-hand how rewarding a career in farming can be, and we will continue to do all we can to encourage greater take up of farming and food sector roles.
"Already, our New Entrant Support Scheme pilot incubators are nurturing new business ideas and we are supporting the establishment of The Institute for Agriculture and Horticulture to improve the uptake of key skills for those entering the industry.
"We also need to develop more attractive opportunities for UK domestic workers and make greater use of apprenticeships, and we continue to work with industry and across government on these areas.
"We will look closely at the findings of the review and will set out our response in Autumn, as the Prime Minister confirmed at the recent Farm to Fork Summit."
Responding to the review, NFU deputy president Tom Bradshaw said: "We are pleased to see the independent panel recognises that action is needed to improve British farmers' access to a skilled and motivated workforce.
"Ensuring we have enough workers, both permanent and seasonal, is essential to maintaining domestic food security and providing British consumers with high quality, nutritious, climate-friendly food. Our own recent survey looking at worker shortages across the agriculture industry shows that 41 per cent of respondents reduced the amount of food they produced due to being unable to recruit the essential workforce needed.
"The horticulture and poultry sectors have been severely impacted by worker shortages in recent years, and we welcome the panel's recommendation to secure the Seasonal Workers Scheme beyond 2024. We have been calling for a long-term five-year rolling scheme to guarantee businesses have the certainty they need to continue producing food.
"Our survey results also show that over 77 per cent of respondents said difficulty in recruiting workers was down to a lack of applicants, so the panel's focus on the need to boost recruitment, training and upskilling of domestic staff is positive to see and TIAH (The Institute for Agriculture and Horticulture) has a key role to play.
"We must now work together to solve the labour challenges impacting the industry, which is a brilliant one to work in and has many opportunities across all levels. I look forward to hearing the government's response to the panel's review and recommendations, which are essential in giving businesses the confidence to invest in our food security."
Former environment secretary George Eustice, who commissioned the review in 2022, said he hoped it would help the government recognise that "dextrous skills [like fruit-picking] can actually be put on the skilled [migrant] list and some of the professions such as lawyers and insolvency practitioners, the people we don't really need any more of, could be removed from that list".
In a BBC interview on 30 June, Eustice said the government must "completely reappraise" its immigration policy and not prioritise what it defines as "skilled workers" for migration to the UK.
People who are good with their hands like fruit-pickers should not be deemed "low-skilled", Eustice said.
He called for an immigration policy that responded to the needs of the economy rather than a "skills-based" system, but added: "If you're going to have 'skills', at least recognise the correct skills - and those are dextrous, human skills."
In his interview, Eustice said the government was "not defining skills correctly".
"It allows in people with cognitive skills – lawyers, accountants. But we have no shortage of those people. In the age of artificial intelligence, many of those jobs can be done by robots in future.
"At the other end of the scale, we don't allow in people with dextrous skills – these are the skills robots find hardest to do. People who work in food factories for instance."
Such jobs were also where there were "acute labour shortages", he added.
Eustice said the government should "completely reappraise" what it defined as skills and introduce a temporary visa scheme lasting two to three years for sectors such as food processing, which had "acute labour shortages that are contributing to inflation".
These shortages, caused by not having enough migrant workers, were "exacerbating" the rate of inflation by contributing to higher food prices, along with rising energy costs, he argued.
"Perhaps up to a third of inflation that we're seeing in food is down to shortages of labour. That is driving up the cost of labour, affecting availability of output."