Group says significant new investment in Germany, Netherlands and New Zealand has improved its ability to supply high-quality fresh produce
Multinational fresh produce supplier BayWa Global Produce says it has spent heavily on infrastructure in order to improve its "resilience and performance".
As a result, several of its subsidiaries head into 2023 with new and expanded packhouse facilities that are equipped with brand new technology.
A week before the group heads to Berlin for Fruit Logistica, CEO Benedikt Mangold says the investments have greatly enhanced its capacity to supply high-quality fresh fruit and vegetables.
"With a high double-digit million euro amount we have modernised and further expanded the operational infrastructure of our subsidiaries BayWa Obst, T&G Global and TFC Holland over the past two years," he comments.
"By increasing our sorting, packing, storage and ripening capacities and making our processes even more efficient through the use of state-of-the-art technologies, we are well prepared for the future."
Equipped and ready
In December, BayWa's German fruit business completed the modernisation and expansion of a packhouse for organic produce in Ravensburg, in the south of the country.
There, a new sorting system and three additional packing lines – including a pear grading and packing machine – have gone into operation.
"This underlines our high-quality standards for an efficient and forward-looking marketing of organic fruit," Mangold says. "We have doubled both the sorting and packing capacity for plastic-free packaging and are thus able to offer our customers completely plastic free packaging solutions."
In the Netherlands, meanwhile, exotics specialist TFC Holland has just moved into an entirely new 26,000m2 production centre. The site is equipped with automated packaging systems and AI-supported ripening facilities for mangoes and avocados.
"With this investment, we are not only significantly expanding our capacities, but at the same time are investing in the highest quality standards, efficiency and sustainability," says TFC Holland CEO Falk Schlusnus.
Similarly, in Hawke's Bay, New Zealand, subsidiary T&G Global is about to build a new, state-of-the-art packhouse for apples. The first section of this newly built facility goes into operation in March.
"This NZ$100m dollar investment clearly underlines our commitment to meeting global consumer demand for our premium apple brands, especially Envy, and building future-fit, highly productive facilities which create value for our people, growers, consumers and shareholders," says Gareth Edgecombe, CEO of T&G Global.
The packhouse, one of the largest production facilities in the Southern Hemisphere, is due for completion in 2024.
It is set to be equipped with world-leading automation technology, and will apparently have enough capacity to pack more than 125,000 tonnes of apples per season.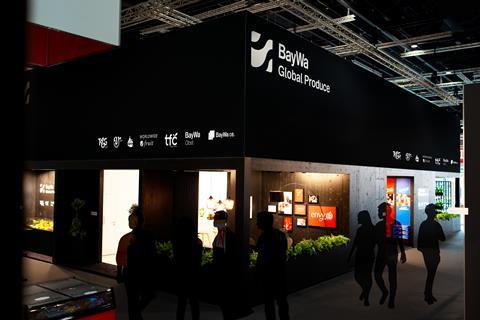 Sustainability and climate protection
With global activities that range from plant genetics to the marketing of high-quality fruit and vegetables, BayWa Global Produce says it places issues like food security, climate protection and the careful use of available resources at the heart of its strategy.
One important element of this 'People. Produce. Planet' sustainability strategy is the Climate Action Initiative and in particular efforts to address the impact of heatwaves, heavy rainfall and droughts caused by climate change.
A cross-sector project called the Hot Climate Programme, in which T&G's VentureFruit business is the project's exclusive global commercialisation partner, seeks to address the impact of global warming through the development of climate-tolerant fruit varieties.
At Fruit Logistica, the group will mark the achievement of a "significant milestone" in relation to HOT84A1, the programme's first commercial variety, after more than five years of production and market trials across Europe.
And BayWa Global Produce says it remains on course to achieve climate neutrality by 2030. A next step will be to update its greenhouse gas reduction targets according to new findings by the Science Based Targets Initiative.
Interestingly, BayWa has also adopted an internal CO2 price, which apparently provides each business segment with an earmarked budget to reduce greenhouse gases and decarbonise operations.