Belgian produce marketers are targeting retail and foodservice companies in the UK with a message of high quality and sustainability
A major marketing campaign has been launched on the UK market to promote Belgian fruit and vegetables to UK retail and foodservice companies.
The three-year 'Loved in Britain, made in Europe' campaign is funded by VLAM, Flanders' Agricultural Marketing Board, and will highlight the opportunities for retailers and foodservice firms to grow by choosing Belgium's high-quality, sustainable produce, including tomatoes, pears and strawberries.
"Belgium is a significant supplier of fruit and vegetables across Europe and the UK in particular, with volumes growing year-on-year, and the market is expected to continue on an upwards trend over the next decade," VLAM stated.
In 2021, the UK imported 40,000 tonnes of Conference pears, a 10 per cent rise year on year, while exports of strawberries from Europe to the UK have risen 22 per cent in the last ten years, VLAM revealed.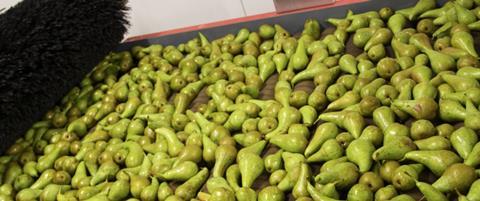 "Tomatoes are the undisputed number one vegetable export from Belgium," VLAM stated, "of which more than 14,500 tonnes comes to the UK each year." Nele Van Avermaet, VLAM's promotion manager fruit & vegetables, commented: "We know that quality, taste and sustainability are highly important factors when it comes to the end consumer, in turn making it vital for retailers and the foodservice.
"Belgian fruits and vegetables have long been a preferred choice in the UK market to provide consumers with the excellence in produce they expect. Thanks to its favourable climate and fertile soil, Belgium is a bountiful source of high-quality fruit and vegetables – which taps into trends within the category, therefore the growth we are experiencing, we expect to see continue."
According to VLAM, the campaign is set to drive awareness of fresh, seasonal produce from Belgium.
"Belgian fruit and vegetable cooperatives have committed to sustainable development and have been part of a collective initiative 'Responsibly Fresh'," VLAM said. "The project shows producers actively taking responsibility for making the agri-food chain more sustainable.
"The campaign, Loved in Britain, made in Europe, will highlight the significant investment made around biodiversity in farming, reducing the impact on the environment in production in particular." VLAM will also be present at numerous UK events over the course of the year, including the Belgian Economic Mission to the UK (9-12 May) and Festival of Fresh (8 June).