Retailers including Aldi, Lidl, Delhaize, ICA and M&S among those who attended the leading event for the global berry business
Global Berry Congress made an impressive return to Rotterdam on 15 November, as buyers and suppliers from around the world took part in the show's first physical meeting for more than three years.
Among those who attended this time were retailers Aldi, Lidl, Delhaize, ICA and M&S, as well as big names like Driscoll's, BerryWorld, Fall Creek, Hortifrut, Dole / Total Produce, Special Fruit, SanLucar and Agrovision.
The event, which featured conference sessions across three stages in the heart of a bustling networking and expo arena, brought together more than 350 people from 28 countries to discuss the latest key trends in the fresh berry category and to hear about game-changing innovations that will shape the business in years to come.
This year's agenda focused in particular on the challenges ahead for berry companies and their customers. Cindy van Rijswick of Rabobank spoke about short-term challenges on the supply side, mainly related to cost inflation in areas such as transport and fertilisers, as well as reduced availability of labour and water.
However, she also reassured those present by highlighting healthy long-term demand forecasts and continued growth in different parts of the market.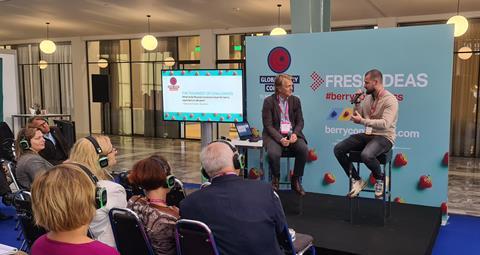 Her talk was followed by an in-depth debate about the future direction of the berry category with Jonathan Lock of UK retailer Marks & Spencer, Lisette Holmberg of Swedish chain ICA, and José Gandia, president of major European supplier Royal.
Later in the day, delegates enjoyed talks on ethical and sustainable sourcing, the Ukraine crisis, renewable energy sources, emerging sources and markets, branding, new varieties, gene editing, robotics and a whole range of other advanced technological solutions.
Organised by Fruitnet, Global Berry Congress is the essential annual event for you to keep track of trends and innovation in fresh berries. Buyers, suppliers and other key industry players meet in person to discuss the future of the category.